Council of Heads of Australasian Herbaria
Australian National Herbarium
Biographical Notes
Gordon, David Morrice (1899 - 2001)

Born 9 July 1899 at Talbot, Victoria; died 28 July 2001 at Surat, Queensland.

David Morrice Gordon AM, the grand old man of Australian flora and founder of Myall Park Botanic Garden at Glenmorgan, died peacefully in Surat on Saturday 28 July, 2001, aged 102.

In his lifetime he established what is now known as Myall Park Botanic Garden at Glenmorgan, with collections of Australian plants, seeds, pressed plant specimens, and a botanical library. His conservation foresight has given future generations access to a valuable botanical gene pool, thus protecting the biodiversity of Australian flora.

Dave was born in Victoria and moved to Queensland with his family in 1909. As a Grazier in the 1920's he advocated that we save and protect trees and understand our natural vegetation.
In 1941 he began a garden to establish plants collected from around Australia, which in time covered 90 hectares, with extensive watering system and gardeners to maintain it.
Dave procured plant material from various parts of Australia and also financed other collectors to travel and collect specimens for him. West Australian plants thrived in his garden, and he established many on site.
He corresponded widely with fellow enthusiasts and botanists around the world to develop interest and knowledge of native plants.
Dave established a seed bank to propagate his own plants and to share with other collectors. The seed bank still exists and this gene pool is botanically significant as many of the plants are now extinct. It also benefits from well-documented records.
Concurrently he pressed specimen plant material to form a herbarium as a reference to identify different species. There are about 7000 specimens in this well recorded collection known to botanists world wide. The Queensland herbarium has received material from Mr Gordon over a period of many years, and has assisted in the preservation of this collection.
Dave was an avid reader of botanical publications and his library is an important collection. His correspondence with botanists, gardeners and collectors is a significant record of botanical heritage.
In the 1960s he planted a group of grevilleas believing they would hybridise. He was rewarded with a red flowering grevillea that he named after his eldest daughter Robyn shortly before illness claimed her life. He named further hybrids after his other daughters, Sandra and Merinda. Both Grevillea 'Robyn Gordon' and Grevillea 'Sandra Gordon' shared the title of "best selling Australian shrub" on several occasions. Dave gave cuttings of these plants freely to nurseries receiving no remuneration from them at any stage.
As a result of the development of Grevillea 'Robyn Gordon', a native plant that flowers almost continuously, he swayed the opinion of the average gardener towards including native plants in their home gardens and public parks. The benefits to wildlife and the environment are long lasting.
Dave encouraged his artist wife, Dorothy, to paint the plants she saw, resulting in a collection of 48 botanical wildflower paintings now housed in the on-site gallery built as a memorial after her accidental death.
Conservation was always his priority with a focus on rare and threatened species - he helped ensure the survival of the locally occurring pink waterlily
Acacia wardellii is almost extinct locally, but Dave's discovery and protection of it means it is now happily surviving at Myall Park Botanic Garden.
A local historian, Betty McKenzie, has written Dave's biography "One Man's Dream" (1995).
Dave set great store by reaching the age of 100 and receiving his letter from the Queen. Another goal he has achieved is that his life has spanned three centuries.
The following is a list of honours received in Dave's long life:

1958 Society for Growing Australian Plants (SGAP) formed, life membership conferred on Dave.
1973 Grevillea Robyn Gordon registered with Australian Cultivar Registration Authority.
1984 Myall Park recognised as a Botanic Garden when included in report by the Royal Australian Institute of Parks and Recreation who recommended financial support be given to the garden.
1985 Myall Park recognised as one of the Botanic Gardens of the World in ex-situ cultivation of rare and endangered plants.
1987 Dave Gordon honoured with the Member of the Order of Australia (AM) - for services to horticulture and conservation.
1989 Dave Gordon receives the Greening Australia Award for Individual Effort for having achieved at Myall Park a botanically renowned collection of remnant vegetation and arid and semi-arid plant species.
Dave Gordon invited to attend International Union Conservation of Nature (IUCN - WWF) conference on Conservation of Sub-tropical Plants at the Island of Reunion off Madagascar.
Dave Gordon surrendered 877 hectare block of virgin country to State of Queensland - Erringibba National Park.
1992 Myall Park Botanic Garden placed on the Australian Heritage Commission's National Estate Register
1995 Dave Gordon receives the Society for Growing Australian Plants' highest award, the Australian Plants Award, in recognition of his achievements in the study and promotion of Australian flora.
1996 Queensland Naturalists' Club presents Dave Gordon with their club's Natural History Award.
1999 100th birthday honours included messages from HM Queen Elizabeth II, the Prime Minister and Governor General of Australia and the Chief of Clan Gordon.

Dave's life's work gave him recognition, but not financial reward. His garden was his life, and his dream was the perpetuation of his garden.

In 1988, Dave invited interested people to a meeting which led to the formation of a non-profit company, Myall Park Botanic Garden Ltd, which today owns and administers the garden. The directors of the company aim to ensure Dave's work will continue to augment knowledge of Australian flora and the environment.


Source: Gillian Kidd, personal communication 30.7.2001
Portrait Photo: M.Fagg 1981
Collecting localities for 'Gordon, D.M.' from AVH
(2021)
Data from 421 specimens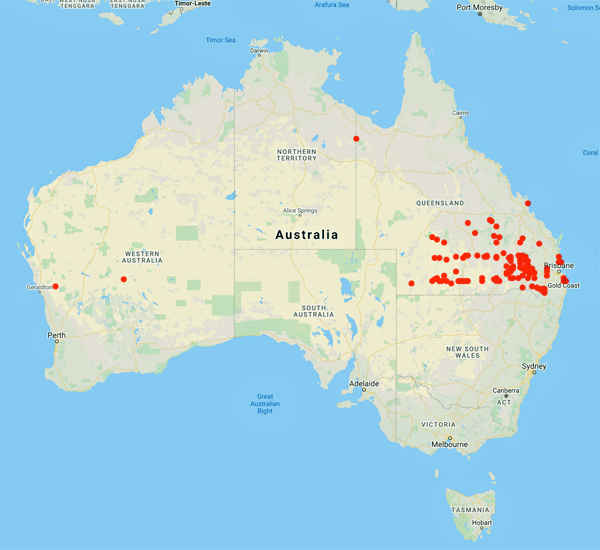 ---
Australian National Herbarium - updated 21 September, 2021 by webmaster (cpbr-info@anbg.gov.au)
---