Collections Management Manual (Appendix 2)
Mixed Collections
Sometimes there may be more than one taxon mounted on the one sheet, e.g. Fig. 1. Since a mounted sheet should represent one taxon only, the specimens should be separated and made into two separate herbarium sheets. Please consult a supervisor before attempting this.
Fig. 1 A mixed collection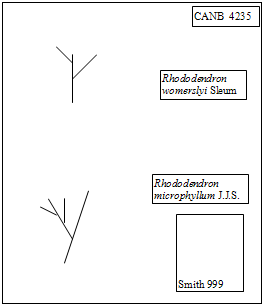 Using archival paper, photocopy the label and relevant determination slip for the specimen (or specimens) that are being removed and alter the collector's number from "999" to "999 p.p." for both collections (p.p. = pro parte or in part).
Separate the specimens into two parts representing each taxon. If the specimens are taped the tape can usually be cut and the specimen(s) removed, leaving the mounting sheet intact. If the specimens are glued, or the specimens are many and small, cut the sheet up and glue the portions to new mounting sheets. Provide a new CANB number to the relevant sheet. If separate determination slips are present, cut out the appropriate slip for the new sheet. Seek guidance when there are packets.
Add the following label to the sheet that has had the specimen separated from it, e.g.

Add the following label to the new sheet to indicate where the specimen has been separated from, e.g.

[open Word template for mixed collections labels]
Fig. 2A mixed collection remounted to make two collections
| | |
| --- | --- |
| ORIGINAL SHEET | NEW SHEET |
| | |
*Please note: When the specimens are added or updated in ANHSIR, the 'Mixed Collection' information should be added to the 'Notes' field of the UNIT screen.
IF IN DOUBT PLEASE ASK