---


---
enlarge image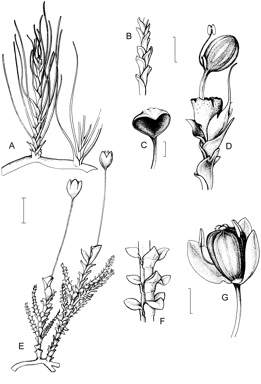 ©
Tristicha trifaria,
Torrenticola queenslandica
Photographer: see Illustrator
Copyright holder: Other, see our image use page for details
Date Taken: 08 June 1990
Taken at:
Image Source: Australian Plant Image Index (APII) - Photo No.: foa.402

Caption: A-D , Torrenticola queenslandica . A , basal portion of sterile plant showing roots, stem bases and elongated leaves (S.Jacobs 4691 and G.Sainty, MEL); B , stem portion from fertile plant; C , larger portion of capsule persistent on pedicel after dehiscence (B.Hyland AFO4398, BRI); D , mature fruit, with tepals and stamen still attached, emerged from spathella at stem apex (B & D , Downey Ck, M.Godwin & D.Bender, MEL). E-G , Tristicha trifaria . E , habit, fruiting plant; F , portion of stem showing leaf arrangement; G , fruiting capsule in situ, before dehiscence, tepals forcibly separated to show stamens and stigmas (E-G , P.K.Latz 10293, MEL).Illustrators: Anita Barley (nee Podwyszynski).
Flora of Australia Volume 18 figure 17.



---
---