---


---
enlarge image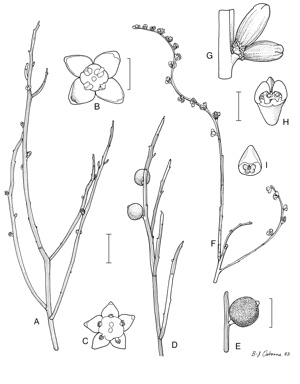 ©
Omphacomeria acerba,
Spirogardnera rubescens
Photographer: see Illustrator
Copyright holder: Other, see our image use page for details
Date Taken: 17 May 1984
Taken at:
Image Source: Australian Plant Image Index (APII) - Photo No.: foa.496

Caption: A-E , Omphacomeria acerba . A , male flowering branchlet; B , male flower; C , female flower; D , fruiting branchlet; E , fruit (A-E , Black Mtn, A.C.T., A.George, CANB). F-I , Spirogardnera rubescens . F , flowering branchlet; G , fruit; H , flower with 2 tepals and stamens removed; I , tepal and stamen (F-I , SW of Coorow, W.A., C.Chapman, CANB).Illustrators: Betsy-Jane Osborne.
Flora of Australia Volume 22 figure 14.



---
---