---


---
enlarge image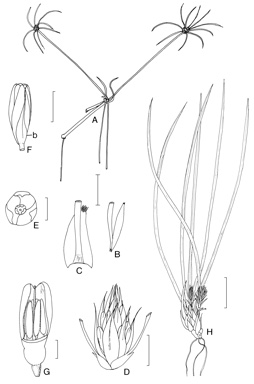 ©
Hensmania chapmanii,
Stawellia dimorphantha
Photographer: see Illustrator
Copyright holder: Other, see our image use page for details
Date Taken: 15 May 1987
Taken at:
Image Source: Australian Plant Image Index (APII) - Photo No.: foa.692

Caption: A-G , Stawellia dimorphantha . A , habit; B-C , lower part of leaf with sheathing base; B , side view; C , front view; D , inflorescence; E , flower, top view; F , flower with bracteole (b ); G , flower with one perianth segment removed (A-G , G.Keighery 181, PERTH). H , Hensmania chapmanii , habit (SW of Winchester, W.A., C.Chapman, PERTH; holo).Illustrators: G.J.Keighery.
Flora of Australia Volume 45 figure 80.



---
---