---
---
Volunteer Mounting Program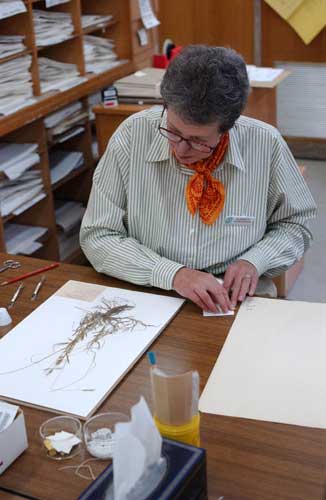 The Australian National Herbarium offers the opportunity for people to carry out a range of activities as volunteers. The Herbarium is a part of the Centre for Australian National Biodiversity Research, a joint venture between the Australian National Botanic Gardens and CSIRO Plant Industry.
The Australian National Herbarium comprises close to 1 million pressed and dried plant specimens from all over Australia and many parts of the rest of the world. Some of these plant specimens were collected by Joseph Banks and Daniel Solander when they were here with Captain James Cook in 1770. There are still many plant specimens being collected today. All of these plant collections provide a most valuable resource for botanists and other scientists conducting research into the flora of Australia.
Members of the community - some retirees, some students - with a specific or general interest in the Australian flora, spend half a day to one day a week preparing plant specimens for storage in the Australian National Herbarium.
Volunteers have the option of participating in the Vascular ('flowering plant') Herbarium (located at the Centre for Plant Biodiversity Research on the slopes of Black Mountain) or the Non-Vascular ('non-flowering plant') Herbarium (located at the Australian National Botanic Gardens).
The Volunteer Mounting Program has been running for 12 years and has been most beneficial to the Herbarium and, we feel, also beneficial to the participants, many of whom have been with us since the beginning.
All Volunteers are covered by insurance and protection against risks.
If you are interested in becoming involved in the Volunteer Mounting Program or would just like to find out a bit more about it, then please contact Natalie Aked on 6246 5127.
Here are our guidlines on mounting specimens
About the Herbarium
---
Updated 23 March, 2011 , webmaster, ANBG (anbg-info@anbg.gov.au)
---