The Gardens
Inspiring, informing and connecting people with the Australian flora
The Australian National Botanic Gardens maintains a scientific collection of native plants from all parts of Australia. The plants are displayed for the enjoyment and education of visitors and are used for research into plant classification and biology. A herbarium of preserved plant specimens is closely associated with the living collection.
The Gardens also cultivates plants threatened in the wild. This helps protect them against extinction and provides information which might assist reintroduction to their natural habitat.

aGlow at ANBG - Light and Dark Night Tours and Night Photography Workshops

Behold the plants in a different light as the Australian National Botanic Gardens opens for Enlighten Festival 2018.
A wonderful way to spend an evening with friends and family exploring the gardens by lantern.
Exclusive 3hr guided night photography workshops. Irene Lorbergs from Canberra School of Photography will instruct on how to photograph plants during the Golden and Cobalt hours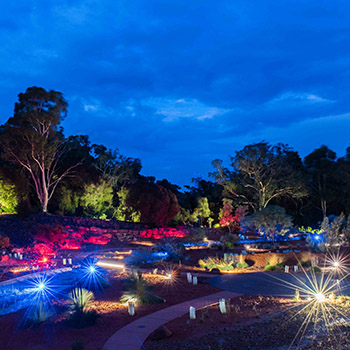 Coming Up
FLORA EXPLORER TOURS Discover the Gardens in relaxing style with a 45 min guided tour aboard our 13-seater electric bus | Sat, Sun and public holidays at 10.30 am and 1.30 pm | Book tickets in the Botanical Bookshop
WAYFINDING ON BLACK MOUNTAIN o A collection of drawings, prints and glasswork representing the observations and experiences of local artist in the form of wary finders by Sally Mumford | 8 February - 10 March, 8.30 am–4.30 pm | Visitor Centre Gallery
Pollen, a café featuring healthy, modern, wholesome food and relaxed dining experience, is NOW OPEN at the Australian National Botanic Gardens. email:hello@pollencafe.com.au Bookings available via Pollen website
More information on these and other events and on how to make bookings is available at the Gardens' What's on page