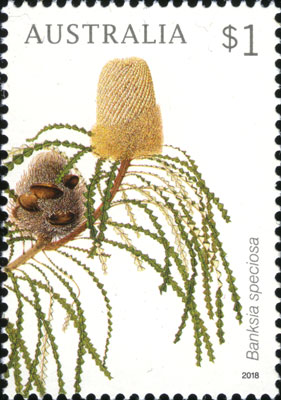 Date of issue: 20 February 2018
Designer: Jo Mure, Australia Post Design Studio
Printer: RA Printing
This is one of a series of four Banksia stamps based on the paintings of Celia Rosser.
Plant: Banksia speciosa
Family: PROTEACEAE
Common-name: Showy Banksia
Named from the Latin 'speciosus' meaning 'showy'.
It is a much-branched shrub to 8 m without a lignotuber. In cultivation it is a large, showy,
fast-growing shrub with cream to pale yellow flowers. It grows well in deep sandy soil or
heavier soil if well drained..
Distribution: Western Australia, along south coast from East Mt Barren to Israelite Bay..
---
---