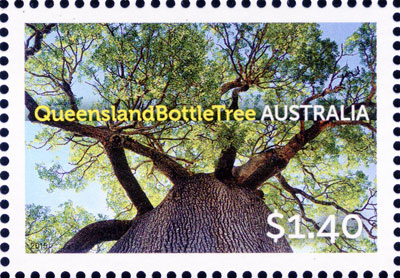 Date of issue: 17 March 2015
Designer: Mary Callahan, Australia Post Design Studio
Printer: McKellar Renown
Part of a series of four 'Australian Trees' stamps.
Plant: Brachychiton rupestris
Family: MALVACEAE
Queensland Bottle Tree
Semi-deciduous tree to 20m with swollen bottle-like trunk.
Leaves are variable: juvenile leaves compound with 3–9 linear leaflets, adult leaves simple, narrow-lanceolate, to 10cm.
Flowers are small and unspectacular.
Distribution: Qld.
---
---