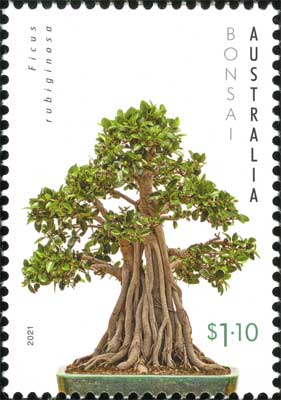 Date of issue: 27 July 2021
Designer: Janet Boschen, Boschen Design Studio
Printer: RA Printing
This is one of a series of 3 'Australian Native Bonsai' stamps.
Plant: Ficus rubiginosa
Family: MORACEAE
Common Name: Port Jackson Fig, Rusty Fig
Usually a variable, from shrub to large tree of 50m, depending on habitat.
Elliptical leaves to 10cm, shiny above with rusty hairs on underside.
Fruits to 1cm diameter.
In the case of this plant it has been developed into a bonsai specimen.
Distribution: Qld, NSW.
---
---