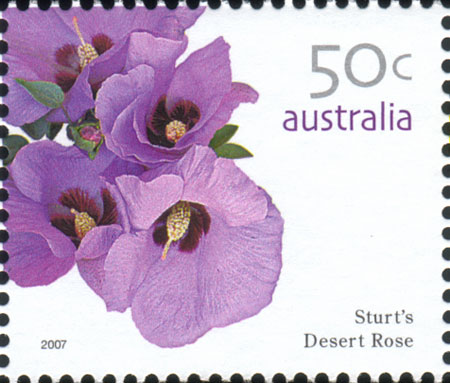 Date of issue: 13 February 2007
Designer: Lynette Traynor
Australia Post Design Studio
Printer: SEP Sprint & Pemara

Plant: Gossypium sturtianum

Family: MALVACEAE

Sturt's Desert Rose
Erect or rounded shrub to 2 m, often less. Rounded, glaucous leaves to 6 cm diameter. Hibiscus-like flowers, pale bluish-purple with red centre, to 12 cm diameter, occur in winter and spring. Floral emblem of NT. Distribution: Qld, NSW, Vic, SA, WA, NT.
Propagation From cuttings or seed.
Cultivation
Occasionally shy to flower. Select from free-flowering clones.
---
---