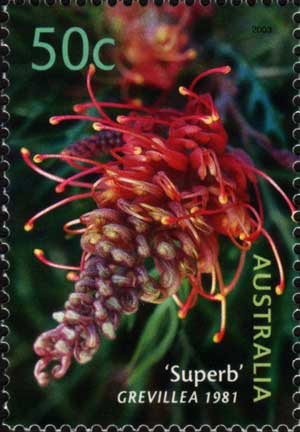 Date of issue: 25 March 2003
Designer: Bruce McKinlay, Australia Post.
Size: 26 x 37.5 mm

Plant: Grevillea 'Superb'

Family: PROTEACEAE

Superb Grevillea
A cultivar bred from Grevillea banksii and G. Bipinnatifida
by Merv Hodge of Queensland.
A bushy medium sized shrub, with extended flowering time.
One of a set of four stamps of plant cultivars, two of which
are not developed from Australian native plants and are
not shown on this site.



---
---