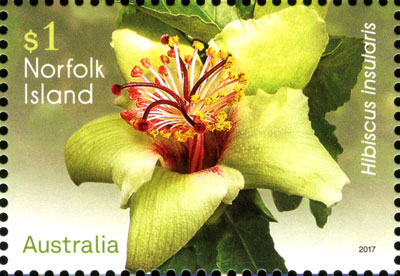 Date of issue: 18 July 2017
Designer: Sharon Rodziewicz, Australia Post Design Studio
Printer: RA Printing
This is part of a series of two 'Norfolk Island Flowers' stamps.
Plant: Hibiscus insularis
Family: Malvaceae
Common-name: Phillip Island Hibiscus
The critically endangered Phillip Island Hibiscus has been planted widely on Norfolk Island.
This large shrub flowers for most of the year bearing cream to light green blooms
with dark magenta centres. The flowers turn pink or purple as they age.
---
---