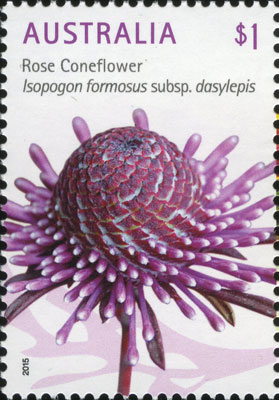 Date of issue: 14 December 2015
Designer: Simone Sakinofsky, Australia Post Design Studio
Photographer: Patrick Gonzales
Printer: McKellar (Pemara)
Part of a series of four WA 'Wildflowers' stamps, introduced at short notice for postal price rise to $1.
Plant: Isopogon formosus subsp. dasylepis
Family: PROTEACEAE
Rose Coneflower
Rounded shrub to 1.5m high by 1.5m across with terete, divided leaves.
Bears large terminal heads of pink flowers in winter and spring, and globular cones.
Two subspecies are recognised.
Distribution: WA.
---
---