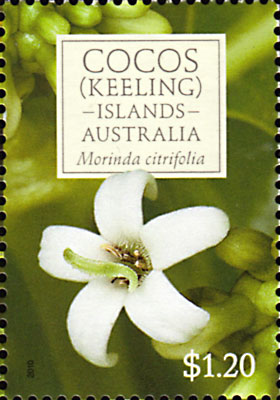 Date of issue: 15 September 2010
Designer: Jo McAlpine
Australia Post Design Studio
Printer: McKellar Renown

Plant: Morinda citrifolia

Family: RUBIACEAE

Koonjerung
Small tree to 6 m with shiny, well-veined, edible, elliptical leaves to 20 cm. Small white flowers borne terminally in heads are followed by globular, warty, edible fruit about 3 cm in diameter. Ripe fruits are cream in colour and smell like gorgonzola cheese. Distribution: Qld, NT, Indonesia.
Propagation From seed or cuttings.
Cultivation
Very attractive tree, but fallen fruits become smelly if not eaten or removed. Leaves may be eaten raw or lightly cooked.
---
---