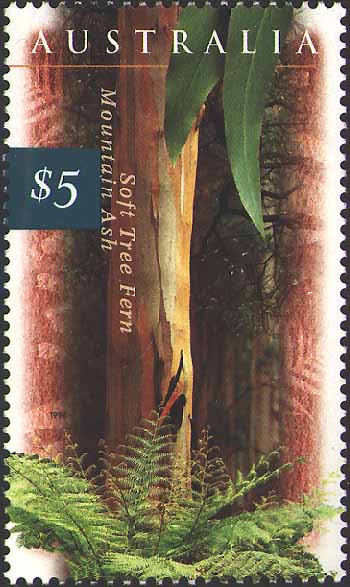 Date of issue
: 1996
Designer
: Rankin Bevers Design
Plant
: Dicksonia antarctica
Family
: DICKSONIACEAE
Soft Tree-fern
Fern with large trunk to 6m high.
Fronds radiating from apex sometimes 3m long.
Grows in wet mountain gullies.
Occurs in Qld, NSW, ACT, Vic, Tas.
Plant
: Eucalyptus regnans
Family
: MYRTACEAE
Mountain Ash
Very large tree to 90m tall.
Smooth bark except at base.
Typical white-cream eucalypt flowers.
Possibly the tallest flowering plant in the world.
Occurs in Victoria and Tasmania.
---
---