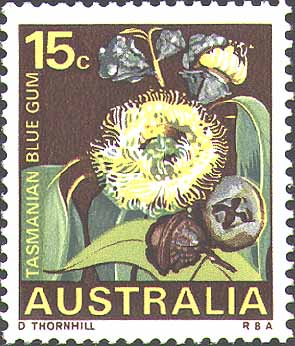 Date of issue: 10 July 1968
Designer: D. Thornhill

Plant:Eucalyptus globulus

Family: MYRTACEAE

Tasmanian Blue Gum
Medium to large tree to 45m high.
Several sub-species are recognised.
Juvenile foliage blue-grey, adult leaves dark green.
Occurs naturally in Victoria and Tasmania.
Commonly grown overseas (eg California).
State floral emblem for Tasmania.


---
---