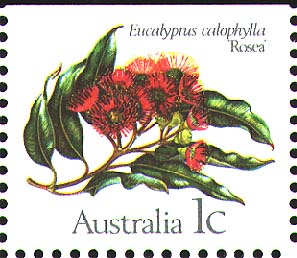 Date of issue: 17 Nov 1982
Designer: E. Conabere
Plant: Corymbia calophylla (as Eucalyptus calophylla)
the "var. 'Rosea' " is not accepted as a valid name.
Family: MYRTACEAE
Marri
Medium to large tree to 40m.
Bears cream or rarely pink or red flowers.
The red flowered form is illustrated on the stamp.
Flowers in summer and autumn.
Occurs in south-western Western Australia.


---
---