Red and Green Kangaroo Paw
Anigozanthos manglesii
(plant family: Haemodoraceae)
Floral Emblem of Western Australia
Red and Green Kangaroo Paw, Anigozanthos manglesii was proclaimed the floral emblem of Western Australia on 9 November 1960. [Proclamation]
It is one of about twelve species of the genus Anigozanthos which is restricted to the south-west of Western Australia. The family Haemodoraceae to which it belongs occurs in Australia, Papua New Guinea, South Africa and the Americas.
The author of the genus was the French botanist, Jacques-Julian Houton de Labillardiere, who was the first to collect the kangaroo paw, Anigozanthos rufus, near Esperance in 1792. The generic name Anigozanthos is probably derived from the Greek 'anises', meaning 'unequal' or 'oblique', and 'anthos', meaning 'flower', in reference to the division of the floral extremities into six unequal parts. The specific name, manglesii, honours Robert Mangles who raised the type specimen from seed in his English garden. The common name, kangaroo paw, is derived from the appearance of the unopened cluster of flowers.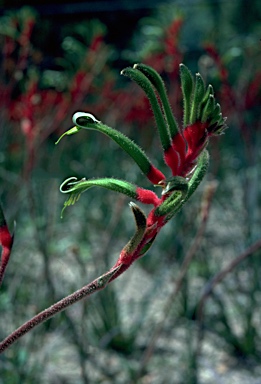 Red and Green Kangaroo Paw was introduced to England in 1833 and described in 1836 by the British botanist, David Don (1799-1841). Robert Mangles recorded his experiences in growing the species in letters to his brother, Captain James Mangles RN, an enthusiastic patron of the cultivation of Western Australian species in English horticulture. In 1839 he wrote:
'I have Anigozanthus [sic] Manglesii shewing for flower in the open ground where I put it in April'. In August he noted that 'Anigozanthus [sic] is progressing fast', and three weeks later Anigozanthus [sic] is now four feet high but has not yet expanded its flower. I am under some apprehension these frosty nights may destroy it'.
In appearance, Red and Green Kangaroo Paw is a low sub-shrub growing from an underground stem. Its broad leaves are about 30 to 60 cm long and taper to an acute apex. The flowering stem grows to about a metre in height and is often forked in specimens from the northern part of the species' range. The stem and the bases of the flowers are usually deep red and covered with woolly hairs. The colour changes abruptly to a brilliant green for the greater length of the flower which splits open revealing the smooth pale green interior. Other colour forms include orange, green with an orange base, bright yellow with a red base, metallic blue with a red base and an all white form. The flowers are pollinated by birds seeking nectar.
In its natural habitat Red and Green Kangaroo Paw flowers between August and October, depending on seasonal conditions and locality. It occurs naturally in heath on sandy soil from the Murchison River in the north to Busselton and Mount Barker in the south and Lake Muir to the east. In the Darling Range it occurs in heath on gravelly soils of lateritic origin.
The species is classed as protected flora. Collectors of any whole plants and flowers must be licensed.
Red and Green Kangaroo Paw seeds germinate fairly readily, especially when sown in sandy soil, and propagation by root division is also possible. It is best treated as a biennial as cultivated plants tend to deteriorate after the second season. The foliage is attractive to snails and damage is avoided by the use of snail bait. Supplementary watering of cultivated plants should be avoided during summer when they are dormant.
The species is susceptible to ink spot disease which begins as isolated black spots on older leaves which may eventually die. In extreme cases the whole plant may die. As four different fungi seem to be responsible, no single fungicide gives effective control. Cultivation in an open sunny position and avoidance of overhead watering may reduce the severity of the disease.
Manipulated hybrids of Red and Green Kangaroo Paw and the less spectacular A. flavidus have been produced. The most horticulturally desirable one shows superior foliage quality and increased resistance to snail damage and fungal disease, while retaining the spectacular flower colours of Mangles' Kangaroo Paw. Tissue culture enables the production of large numbers of particular colour forms.
Fresh flowers of Red and Green Kangaroo Paw last well in water and its brilliant colours and unusual form are exploited to great effect in simple line arrangements. It retains its colours well as a dried flower and is often sold in bunches of mixed Western Australian wildflowers. Considerable impact occured on wild populations of this species by the collection of flowers to provide both fresh and dried material for local use and export, but supply is largely now from cultivated plants.
Red and Green Kangaroo Paw, superimposed on a distant view of Perth, was depicted on a 5 pence stamp [illust] issued on 1 November 1962 to commemorate the Seventh British Empire and Commonwealth Games held in Perth. R. M. Warner designed the stamp. The 6 cent stamp [illust] of the set of State floral emblem designs issued on 10 July 1968 also featured Red and Green Kangaroo Paw with the caption Kangaroo Paw. It was designed by Nell Wilson.
The State floral emblem is incorporated in the armorial bearings [illust] of Western Australia, granted by Royal Warrant on 17 March 1969, and in this form appears on stationery of all government departments and many government publications. The blazon of the arms includes:
'And for Crest: On a Wreath Or and Sable The Royal Crown between two Kangaroo Paw (Anigosanthos [sic] Manglesii) flowers slipped proper'.
The flowers are used on a wide range of commercial products and in the insignia of community groups.
Download a line illustration by Marion Westmacott.©
Download copyright-free illustration by Fay Davies, suitable for childrens' colouring.
---
Written by Anne Boden for a booklet published by AGPS for the ANBG in 1985.
---