Federation Flower for Victoria
Acacia leprosa (Cinnamon Wattle - red flowered form)
Scarlet Blaze


Newly Discovered Wattle Becomes Victoria's Federation Floral Emblem
Scarlet Blaze, one of the twentieth century's most surprising and significant horticultural discoveries is Victoria's Centenary of Federation floral emblem.
The blood-red variety of the Cinnamon Wattle (Acacia leprosa) was found growing in a Victorian forest in 1995 by two bush walkers. They took cuttings to the Royal Botanic Gardens, Melbourne, which manages a specialised plant conservation program, thereby saving many plants from probable extinction.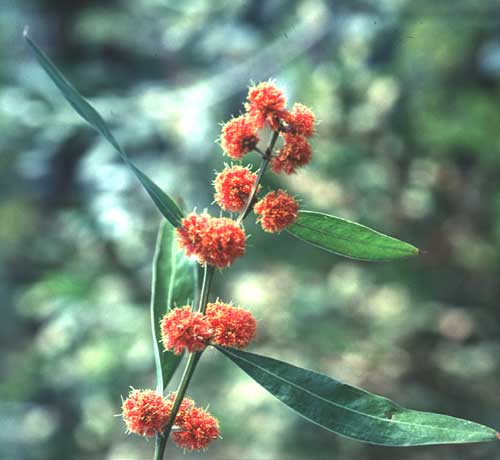 ©
The Garden's horticultural staff successfully propagated the extraordinary hybrid from cuttings rather than seed in order to preserve the unusual blood-red colouring. When grown from seed, the red colouring reverts to the more traditional yellow flower.
Scarlet Blaze will be launched through Plant Growers Australia later in 2001 onto the horticultural market. It is estimated that the plant may generate at least 20,000 sales, with an interest from Europe, the US and Asia.
Dr Phillip Moors, Director of the Royal Botanic Gardens, Melbourne, said: "It is fitting that Scarlet Blaze has been chosen as the State's floral emblem because its discovery and subsequent conservation has made horticultural history".
Worldwide there are about 1200 acacia species, of which 950 are in Australia. Acacia leprosa is regarded as a particularly hardy large shrub or small tree with a weeping, slender habit. It can grow throughout much of Australia, flowering in August and September, and is an ideal home garden plant.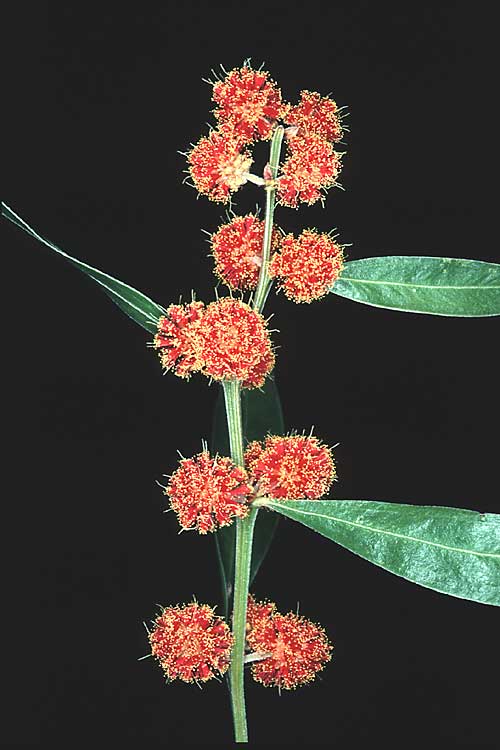 ©
Extracted from Aust Better Gardens and Home Ideas, Vol.28 No.340, February 2001
Photos © ANBG Photograph Collection
More information from Royal Botanic Gardens Melbourne