Melaleuca wilsonii
Violet Honey-myrtle
Violet Honey-myrtle (
Melaleuca wilsonii
) is one of the many Melaleucas of decided home-garden value. This one, from Victoria and South Australia, is among the best and strongest growing in Canberra gardens, and succeeds as a long-lived shrub that is hardy to frost and drought. Of elegant and thriving appearance all the year, it is most striking when it flowers in the spring.
Within the species there are a number of forms varying from upright to low and spreading, but always they develop a good shape. In height it reaches 1.5 m and can spread to 2.5 m, sometimes covering the ground in a cushion effect. Growth is dense and branching is irregular, generally in straight, flattish sprays.
The one centimetre-long narrow, pointed leaves grow at a wide angle to the stem in neat opposite arrangement. They are smooth textured and have a lemon scent when bruised. In spring the young growing tips are bright green.
Flower heads formed of feathery bunches of vivid magenta-rose stamens, closely set surrounding the stems of older wood, may open at any time from the end of October and are at their best in the first half of November.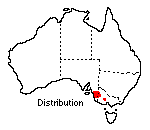 After a cool and showery spring, flowering may continue until the end of November, but in a season of hot dry spells flowering is often poor and short. Bees crowd the plant when it is in flower. The species is exceptionally good for cut flowers. Even long sprays last for at least two weeks indoors.
Propagation is easy from seed. At planting time an open or semi-shaded position may be selected, after which little care is needed apart from watering during dry periods to avoid bare wood. Pruning is not necessary other than to control a desired shape and the shrub is generally free from diseases and pests.
Melaleucas are adaptable in the home garden and may often thrive in a constantly damp or badly drained situation in which it is difficult to find a suitable plant to grow. They are closely related to the Leptospermums (Tea Trees), and range in forms from small shrubs to large trees. Some of the larger trees are used commercially in boatbuilding and fencing and many species grow in coastal regions.
Based on text by Irene Beeton (1971)

Name meaning: Melaleuca wilsonii
Melaleuca - from two Greek words, melas, black and leukos, white, because the first Melaleuca described had white branches against a black trunk, possibly blackened by fire; another opinion contrasts the white bark with the very dark foliage of some species;
wilsonii - after T. B. Wilson, a 19th century traveller