Thryptomene calycina
Grampians Heath Myrtle
Thryptomene calycina (Lindl.) Stapf
The Grampians Heath Myrtle (Thryptomene calycina) is a beautiful shrub found growing wild in south-west Victoria, where it is common on rocky mountainsides. In Canberra it is slightly frost tender and usually needs protection in its early years, though in some sheltered positions, as under tall trees, this may not be necessary. Such a choice species, however, is worth some trouble and should be covered from mid-May to mid-August.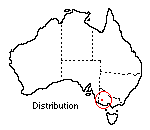 A neat method is to put three stakes round the plant over which hessian or plastic can be thrown each night. In later years an established and bushy young plant is no worse for having some tips killed, and grows away in spring as if it had been lightly pruned.
A rounded bush develops, soft in character with dense branching and unusually free lateral growth hiding the frame down to ground level. It is as well to keep it bushy by pruning if necessary for as an open plant its brittle branches are liable to be broken by sudden winds or the weight of snow. Growth is rapid and a shrub may be over 2 m high and 2.5 m wide at seven years old, though size and shape can be controlled by pruning. In a frost-free district it could be used as a hedge plant. lt is only moderately drought resistant and should receive adequate water during dry spells.
The foliage is small, neat and smooth and aromatic when the shrub is brushed in passing. Its general appearance is clean and healthy in all seasons and the young growing stems have reddish tints during summer. Flowers of exceptional quality are the main attractions of this species, which flowers from autumn to spring. During April the first pinkish buds appear low on the branches and open to tiny flat flowers facing all one way in straight tapering sprays. They are pure white with a dark eye. Flowering gradually spreads over the shrub until in mid-winter the plant appears covered with snowy spires. These are checked only by the severest spells of cold. On fading, the flowers become suffused with pink tints which are held until mid-October and merge into the brighter spring show of other plants. This is a perfect cut flower lasting many weeks in water even as long sprays. At the same time the cutting of sprays of flowers carries out some pruning. This is advisable to retain a bushy shape and avoids bare wood as well as prolonging the life of the shrub.
Young plants are generally raised from cuttings and may be bought from some nurseries. In the garden, Thryptomene requires light soil free from lime in the sun or in light shade. No pests or diseases have been noticed.
Based on text by Irene Beeton (1971)

Name meaning: Thryptomene calycina
Thryptomene - a Greek word meaning made small, alluding to the small size of most Thryptomenes;
calycina - emphasising the prominent calyx of the flower.