Correa baeuerlenii
Chef's Cap Correa
Correa baeuerlenii, a member of a small genus of about ten species in the Rutaceae family, has a limited distribution in the wild and is rarely seen in cultivation. It occurs naturally in damp gullies and on the banks of streams on the south coast of New South Wales from Batemans Bay to Bega, and inland to the foothills of the Great Dividing Range escarpment. The species was first described by Ferdinand von Mueller in 1884 from a specimen collected by William Baeuerlen in the Clyde River district.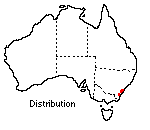 The plant itself is a small to medium shrub about 2m high and 2m wide. The leaves are ovate or almost lanceolate, about 6cm long and 2cm wide, glossy dark green on top and lighter underneath. The flowers are terminal or axillary, with a corolla which is cylindrical, about 3cm long and greenish yellow in colour. The calyx has an expanded base which gives the pendulous flowers the appearance of a chef's hat, resulting in the shrub's common name, Chef's Cap Correa.
C. baeuerlenii is propagated readily from tip cuttings which should be taken when the new growth hardens in summer to autumn. Most of the specimens in the Australian National Botanic Gardens have been propagated as cuttings from a single plant growing beside a creek in wet Eucalyptus forest about 11 km from Nelligen, New South Wales.
There are about twenty specimens growing in the Botanic Gardens in various locations, but all have one thing in common - a shady position. The best specimens are growing in a sheltered bed in an upper section of the Gardens. Here a canopy of Eucalyptus rossii provides mottled sunlight for most of the day. They are beautiful shrubs, healthy, with dense foliage to ground level. The bed of well-drained Black Mountain soil is mulched with hardwood chips to provide a cool root run through the summer; it has an easterly aspect.
All specimens within the Gardens are doing well, even those exposed to the hardest frosts, the only apparent damage being a reddening of some leaves. No insect pests have been recorded and the only problem appears to be an occasional light attack by a leaf-spot fungus. The main flowering time is winter but flowers also occur intermittently throughout the year. In summary, a shady position with mulched soil and good drainage seem to be the optimum conditions for this shrub.
Text by Neil Fisher, ANBG (1980)
Look here for a glossary of botanical terms.

Name meaning: Correa baeuerlenii
Correa - in honour of Jose Francisco Correa da Serra (1751-1823), a Portuguese botanist and clergyman;
baeuerlenii - after William Baeuerlen (b.1845), a professional plant collector and the discoverer of this species.