Phebalium squamulosum subsp. argenteum
Phebalium squamulosum subsp. argenteum Paul G.Wilson
The ten subspecies of Phebalium squamulosum currently recognised occur in eastern Australia from north-east Queensland to Wilsons Promontory in Victoria. They vary from slender, small trees 7m high to prostrate shrubs.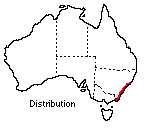 Phebalium squamulosum subsp. argenteum occurs naturally along the coast of NSW from Port Stephens to the Victorian border. It is generally a spreading or erect shrub, growing along cliff tops, but also occurs on beach dunes, where it is frequently associated with Leptospermum laevigatum.
The leaves are elliptical, 1-3 cm long, with new growth and the underside of the old leaves covered with silvery scales. It is quite hardy in cultivation, much more so than the other subspecies. Shrubs are dense and rounded and grow to 1.5m in five years. When in new leaf, plants have a silvery appearance and this, together with the rounded habit, makes it a useful contrasting garden subject.
Flowers are small, less than 10 mm in diameter, with bright yellow anthers and white petals and stamens. Flowering begins in early September and lasts about four weeks. As with most members of the Rutaceae family, P. squamulosum subsp. argenteum is difficult to grow from seed. Fortunately it strikes well from cuttings, forming roots in four to eight weeks. Slightly hardened new seasons growth will give best results although some success has been achieved at other times of the year.
Regular light tip pruning can be beneficial, especially if a screen or low hedge is desired. When grown as a pot plant its performance is good, but it should be pointed out that its main attraction is foliage and form. If the natural habitat is any indication this subspecies could be grown where salt spray is a problem.
Text by Peter Ollerenshaw, ANBG (1980)
Name meaning: Phebalium squamulosum subsp. argenteum
Phebalium - from a Greek word indicating a type of Myrtle, probably because of the flowers' superficial resemblance to those of Myrtaceae species;
squamulosum - from Latin meaning covered with small scales;
argenteum - from Latin meaning silvery, referring to the colour of the small leaf-scales.