Eryngium ovinum
Blue Devil
The genus Eryngium has approximately 230 species in tropical and temperate parts of the world, but only four or five are endemic to Australia. Eryngium is a member of the Apiaceae family, the carrot and the Australian Flannel Flower (Actinotus helianthi) being familiar members of the same family.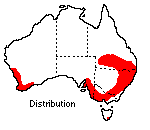 In Australia, E. ovinum is widespread throughout temperate woodlands and grasslands and can be seen growing naturally around Canberra.
Eryngium ovinum is a perennial herb, which dies down during autumn and emerges in late winter to flower in summer. In July or August (in Canberra) the plant develops a rosette of narrow, spiny, divided leaves which have a waxy appearance. By mid summer the flowering stems extend to 60 cm and a mass of crowded bright blue flowers is produced with long, spiky bracts to 2.5 cm in globular, thistle-like heads on rigid branched stems. The stems and bracts are a metallic blue and, together with its 'spiky' look give rise to its common name, Blue Devil.
The terminal flower heads open first; below them are the side branches which open next and flowers on the side branches appear until all flowers are open. Each flower lasts several weeks, giving the plant an impressive display of colour.
Eryngium ovinum has long been neglected as a garden plant and its full potential has not been realised. It could be ideally used as a rockery plant in an open, sunny position, both for its colour and dramatic form.
The Blue Devil is relatively long lived with some plants thriving at the Australian National Botanic Gardens for ten years or more. They are easily grown from seed, sown in punnets in early December and planted out in April to allow their fleshy taproots to develop to sustain them when they die down during the winter months.
Most soils seem to be suitable provided they are well drained, but a sunny position is essential. No pests or diseases have been noticed and the plant is frost hardy.
The flowering stems can be cut to the base and used as fresh flowers or dried floral arrangements. Their colour and texture make interesting and attractive displays.
Text by Nora Ollerenshaw, ANBG (1981)
Name meaning: Eryngium ovinum
Eryngium - after the ancient Greco-Latin name for a similar plant commonly called Sea Holly;
ovinum - from Latin, referring to sheep, but the allusion is not clear.