Grevillea willisii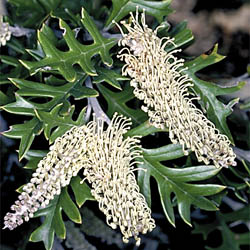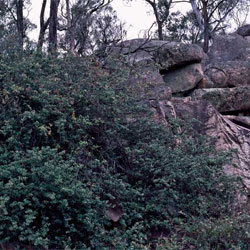 in its native habitat
Willis' Grevillea
Grevillea willisii R.V.Sm. & McGill.
Landscapers are continually searching for new species and varieties of plants with hardiness and adaptability, particularly for larger landscape projects such as the surrounds of public buildings or parks. Grevillea willisii is a species most suited for this type of situation.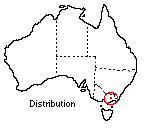 Although officially named only in 1975, its existence had been known for many years prior to this as the first recorded collection was made in 1882. G. willisii occurs naturally in a very confined locality near the Omeo district in Victoria. It grows into a large mounded shrub 2.5 m tall and can reach up to 4 m across. Quite often the size reached in cultivation can be larger than this.
This grevillea grows naturally in eucalypt forest among large granite outcrops and boulders, mainly on steep slopes. The drainage in these areas is good.
In cultivation at the Australian National Botanic Gardens, the best plants are growing in stony skeletal soil. The site has a northerly aspect and is relatively open. The area is well drained and relatively dry, though supplementary watering is provided. Some plants are also growing successfully on much heavier soils at other sites in the gardens.
The leaves of G. willisii are deeply pinnately lobed with a slight prickliness. The leaves can have 3-10 lobes but more commonly 5-7 lobes are present. They are a dull green above with the under-side of the leaf and the stiff, rigid stems covered with a dense tomentum of light-coloured hairs. The shrub when viewed from a distance has a grey-green appearance.
The flowers appear in spring in terminal spikes and are a cream colour with pale yellow styles. The fruits are attractive, with dark streaks developing on them as they mature. The shrub is very attractive to birds, providing nesting sites in its dense, prickly foliage. Its flowers also provide a good food source for nectar feeders.
Propagation of this species has been carried out only from cuttings. Seed has not yet been tried. The best results have been with cuttings taken during April-May and treated with rooting hormone. Cuttings may take from two to five months to strike.
Some chlorosis of the leaves has been noted but not enough to detract from the plant. Leaf miners occasionally attack this species.
Text by Geoff Butler, ANBG (1983)
Name meaning: Grevillea willisii
Grevillea - after C. F. Greville (1749-1809), an English patron of botany;
willisii - named in honour of Dr J. H. Willis, a former Government Botanist of Victoria.