Enchylaena tomentosa
Ruby Saltbush, Barrier Saltbush
This member of the world-wide Chenopodiaceae family has many common names, among them Ruby Saltbush and Barrier Saltbush. It occurs in all mainland States.
Enchylaena tomentosa is a sub-shrub (that is, a low-growing, semi-woody plant) with procumbent or ascending pubescent, trailing branches which may grow to 1 m long. A height of 1 m is occasionally attained, however, plants are often less than half this size and some forms are prostrate.
The evergreen leaves, which are cylindrical, semi-succulent and up to 2 cm long, are covered with fine white hairs (tomentose) , giving the plant an attractive grey appearance overall. The single, axillary flowers are insignificant and occur from spring to early summer and autumn. These are followed by very showy, small (5 mm diameter) fruits which are red when ripe. The fruits are depressed-globular and succulent and change from green to yellow prior to ripening. It is usual for the differing colour stages to be present on a plant at the one time, adding greatly to the visual impact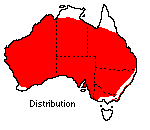 Enchylaena tomentosa is found over a wide range of poor soils from coastal, partially stabilised, dune sands near the Southern Ocean in South Australia, where it may be planed by salt and sand-bearing winds, to riverine clay loams, often in saline depressions, and to the deep siliceous, sandy soils in many semi-arid regions of the continent. The species is recorded in salt marsh habitats in tropical, sub-tropical, and temperate regions. The leaf type of E. tomentosa is typical of many chenopods. Reduced size and succulence are adaptations to nutritionally poor soils and the leaf tomentum reflects considerable heat which may otherwise be damaging to cell tissue.
In cultivation, with favourable soil conditions, a less sparse and possibly more vigorous plant may result, well able to cope with any periods of relative dryness or with cold conditions including frosts. E tomentosa has been shown to tolerate temperatures of -6ºC in cultivation at the Australian National Botanic Gardens in Canberra.
The species is propagated successfully from seed or cuttings. Seed should be cleaned by removing the succulent tissue of the fruit prior to sowing and germination should occur in one to four weeks. A well-drained medium, kept moist without excessive overhead watering, is desirable for cuttings.
Enchylaena tomentosa has a wide climatic, soil and topographic tolerance. Full sunlight encourages the best growth in the more desirable forms, such as those with a prostrate habit. The variation in fruit colour, which persists over long periods, adds greatly to the value of this species in cultivation.
Text by Barrie Hadlow, ANBG (1986)
Name meaning: Enchylaena tomentosa
Enchylaena - from the Greek, egchlos, fleshy or succulent and chlaena, cloak or lined cloak, referring to the ripe fruiting perianth;
tomentosa - botanical Latin, meaning covered with dense short curled or curved hairs.