Nematolepis phebalioides
Nematolepis phebalioides Turcz.
Nematolepis phebalioides is a small, attractive shrub which occurs naturally in the mallee thickets and heaths between Israelite Bay and Lake Grace in southern Western Australia.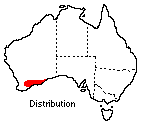 The species Nematolepis phebalioides closely resembles the Correa of eastern Australia in floral structure. Once thought to be a mono-specific genus in Western Australia, research in the 1990s concluded that it now consists of seven species across the continent. Some other species of Nematolepis do not look like Correa. Both genera belong to the Rutaceae family but differ in the number of floral parts and the arrangement of leaves on the stem.
Nematolepis phebalioides has a rigid, upright habit and grows from 0.6 m to 1 m in height. The oval-shaped leaves are glossy green above and paler beneath and vary from 10 to 20 mm in length. The stems and the underside of the leaves are covered with silvery scales.
The pendulous, bird-pollinated flowers are a brilliant red and are produced on short stalks in the leaf axils. The five petals are united into a cylindrical bell-shaped tube, spreading at the top and tipped with yellow green. The stamens are yellow.
This species, which occurs naturally in clays, loams or laterite soils, requires perfect drainage for successful cultivation and is ideally suited for growing in a rockery or as a container plant. It can be grown in full sun although a semi-shaded position is preferable.
Propagation from seed has not been attempted at the Australian National Botanic Gardens and probably would be difficult as is the case with many species of the family Rutaceae and so vegetative (cuttings) propagation is recommended. At the Gardens a reasonable percentage strike was achieved by taking half-hardened cuttings in late September. The use of a rooting hormone may be beneficial. The development of roots may take up to two months.
In cultivation, plants benefit from an application of a complete fertiliser in autumn and spring and mulching of the soil surface around the plant. Tip pruning throughout the development of the plant will increase its vigour.
Although not commonly known, Nematolepis is worthy of cultivation for its growth habit and its vividly coloured flowers which are attractive to birds.
Text by Effie Mullins, ANBG (1986)
Name meaning: Nematolepis phebalioides
Nematolepis - from the Greek, nematos, of the thread, and lepis, scale, referring to the scales, fringed with hairs, at the base of the stamen;
phebalioides - from the genus Phebalium and the Greek suffix - oides, like or resembling.