Olearia erubescens
Silky Daisy Bush, Moth Daisy Bush
Olearia erubescens (Sieber ex Spreng.) Dippel
The genus Olearia, which belongs to the Asteraceae family, is confined to Australia, New Zealand and New Guinea, with eighty species in Australia. The different species are commonly called Daisy Bushes and are found growing in a variety of soils at all altitudes.
The olearias are beautiful, free-flowering shrubs which are transformed in spring when the bushes are covered with white, pink, purple or blue daisy flowers.
Most species are hardy shrubs suitable for alkaline conditions and will endure considerable cold and periods of dryness. Many also do well in coastal gardens and will grow in full sun or partial shade.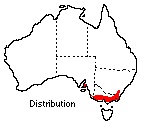 Olearia erubescens is a small woody shrub endemic to the Australian Capital Territory, New South Wales, Victoria, Tasmania and South Australia. At high altitudes it is a small stunted shrub up to 40 cm high, on sub-alpine grass flats and in eucalypt forest gullies it reaches 0.5 to 1.5 m.
The floriferous nature of this plant plus the attractive red colouration of its young growth make it a useful addition to the garden. It may be used effectively in a rockery, for group planting or as a container plant.
The alternate, coarsely-toothed, narrow leaves are 2-4 cm long and taper into a very short stem. They are conspicuously net-veined above and covered with dense silky hairs below, giving them a silvery appearance.
The long-stalked flowerheads are borne in axillary clusters on the previous year's shoots, forming leafy panicles up to 30-45 cm long. They last from spring to early summer. Each flower head is composed of a single row of white or pink ray florets bordered by several rows of bracts and enclosing the central, yellow disc flowers.
Propagation of O. erubescens is best achieved from cuttings taken in early summer. These take up to six weeks to develop roots and for best results the base of the cutting should be dipped in a rooting hormone prior to planting.
To maintain the health and vigour of the plant, the application of a complete fertiliser in spring and autumn is recommended. Tip pruning throughout the plant's development, and especially after flowering, will strengthen it and encourage a bushy habit.
Text by Effie Mullins, ANBG (1986)
Name meaning: Olearia erubescens
Olearia - named in honour of German botanist, J.G.Oelschlaeger (1635-1711) [Latinised as Olearius];
erubescens - from the Latin, erubesco, to blush, and probably referring to the young shoots, which are sometimes reddish.