Leptospermum rotundifolium
Round-leaved Tea Tree
Leptospermum rotundifolium (Maiden & Betche) F.Rodway ex Cheel
The Round-leaved Tea Tree, which grows naturally in parts of New South Wales, is outstanding among the Leptospermum genus for the size and quality of its flowers which are spectacular for several weeks in spring. In cultivation it is generally a large shrub which withstands frost and periods of water shortage, remaining in good condition for years if kept trimmed. Five years after planting it can be 1.5 m tall and 3 m across, eventually reaching at least 3 m tall unless cut back. Growth is dense and stiff with long, sweeping branches covering the ground well and tending to curve in various directions.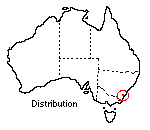 The small leaves, of neat and crisp appearance, are openly spaced along the branches. They are rounded with pointed tips, smooth and slightly shiny and give off an aromatic perfume, like other members of the same family, when bruised.
Flowers are larger than those of other Leptospermum and are borne both on short lateral stems and on newer wood right to the tips. Round buds open to flat flowers each with five rounded petals surrounding a large green eye which is fringed by a row of upright stamens. The eye is often shining with nectar. Though flowers are generally single, plants with double flowers are occasionally found. Flower size varies from plant to plant, but they are up to 2.5 cm across. Colours range from white through flesh pink to clear tints of deeper pink and mauve.
This species has one flowering season a year, from the end of October to the end of November, bursting into full flower in a warm spell of weather. If the season is hot and dry, flowers last only about three weeks. Despite this the shrub is worth having in a home garden for its mass of flowers down to the ground. Bees are attracted to the shrub.
Nurseries specialising in native plants can supply this plant in varying forms and colours, with named varieties. Propagation is from seed or cuttings, but seed will not necessarily come true to colour. Any soil is suitable and good watering brings rapid growth and flowers at an early age.
Many species of Leptospermum are successful in Canberra. Tea trees have been among the most popular of Australian native plants for hybridising. These hybrids and cultivars can include dwarf and prostrate forms suitable for rockery and groundcover use.

Based on text by ANBG staff (1972)

Name meaning: Leptospermum rotundifolium
Leptospermum - thin, thread-like seeds, from the Greek words lepto, slender, and sperma, a seed;
rotundifolium - with rounded leaves