Thomasia petalocalyx
Paper Flower
Thomasia is a genus of thirty relatively unknown Australian species belonging to the family Malvaceae. Plants in this family are usually characterised by having a large, coloured and often attractive calyx, the petals of which are tiny and sometimes absent. Thomasia is closely related to another genus of the same family, Lasiopetalum, both exhibiting this calyx/corolla relationship. The family also contains such plants as Brachychiton populneum (kurrajong) and and the genus Hibiscus. Another interesting exotic member from which cocoa and chocolate are derived, is Theobroma cacao (Cocoa Tree).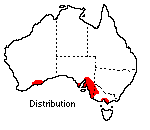 Thomasia petalocalyx, or Paper Flower, is widely distributed and thus perhaps better known than many Thomasia species. A native of the drier parts of Victoria, South Australia and Western Australia, it forms a low-spreading shrub with a soft, furry appearance. It usually attains a height of 80 cm with a spread of about 160 cm. Some specimens could almost be classified as ground covers because of their low, sprawling habit.
Thomasia petalocalyx begins flowering in late October and continues on until January. During this period small sprays of pinkish-coloured flowers cover the branches. These attractive cup-shaped blooms, with their striking brown anthers, are 10-15mm across. The colourful papery segments of the flower are in fact sepals and are strongly veined. Sepals and petals are both five in number, but the latter are minute and barely noticeable. The sepals are joined close to the base, thus forming a five-lobed calyx. The slender peduncles which support a few drooping flowers are a reddish colour.
The fruit is a three-celled capsule with each cell containing several blackish seeds. Fruits mature quickly, splitting open when ripe and releasing the small seeds. Empty capsules persist on the plant for some time and these should not be mistaken for seeds when seed collecting.
The leaves are crinkly, oblong-shaped and 2-4 cm long. Leaves, branches and leaf-like stipules are all covered with small, straight, brownish-coloured hairs.
This species is suited to most reasonably well-drained soils and requires little attention once plants are established. In the Australian National Botanic Gardens specimens have survived for ten years and more in a sometimes dry soil. Plants grow equally well in full sun or in a semi-shaded area. The latter situation seems to lengthen their flowering period.
The species may be propagated from cuttings or seed but germination percentage is usually low. Only minimum pruning is necessary to maintain the plant in a bushy condition and it is ideal for cut flowers. No diseases or any real damage by insects have been recorded on this species in the Canberra Gardens.
Text by ANBG staff (1978)
Name meaning: Thomasia petalocalyx
Thomasia - in honour of Peter and Abraham Thomas, Swiss plant collectors of the mid-18th century;
petalocalyx - petaloid sepals, an allusion to the calyx lobes which are coloured like petals