Boronia deanei
Boronia deanei Maiden & Betche
Boronia deanei is an erect, slightly spreading shrub that occurs naturally in swamps between Clarence and Wolgan in the Blue Mountains of New South Wales and also above the Fitzroy Falls near Moss Vale, New South Wales.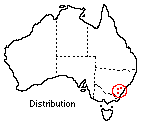 In the wild, plants are recorded as growing from 75 to 100 cm tall; however, some ten year-old plants in the Australian National Botanic Gardens are 2 m tall. With this species, unlike many boronias, drainage seems to be of little importance as plants in both poor and well-drained sites look equally healthy. Moderate shade is tolerated happily but heavy shade causes plants to become sparse and spindly.
In Canberra, B. deanei shows no sign of frost sensitivity, although a few older leaves do turn yellow and drop off during autumn. Propagation has only been tried by cuttings, and good results have been recorded with those taken from October to January.
In Canberra, the pink flowers of B. deanei can be seen for about a month beginning in early October. A shrub in full bloom makes a fine display resembling the exotic diosma (Coleonema pulchra) in habit and flower colour. While the flowers are not scented, the small, narrow-linear leaves are pleasantly aromatic and this can be noticed when they are crushed or brushed.
This boronia has also been grown successfully as a potted plant for ten years and with occasional tip pruning, fertilising and adequate water through summer can be maintained as an attractive specimen. Some sooty mould appears on older plants although this has not been unduly detrimental. No other pests have been noticed. Boronia deanei has proved reliable and adaptable and would be a suitable addition to most gardens.
Text by P. J. Ollerenshaw (1979)
Name meaning: Boronia deanei
Boronia - after F. Borone (1769-94), an Italian plant collector;
deanei - after H. Deane (1874-1924), a railway engineer and amateur naturalist.