Melaleuca cuticularis
Salt Water Paperbark
Melaleuca cuticularis (synonym M. abietina) is a member of the Myrtaceae family and occurs naturally in the Esperance, Albany and Stirling Range districts of Western Australia. It grows on saline soils around estuaries and salt lakes.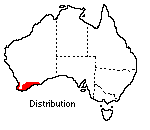 It forms a shrub or small tree some 2.5 - 4 m tall which is fairly dense. The branches of the plant are rigid and tortuous and the leaves linear to oblong, up to 1cm long and dark green in colour. Stems and trunk are clad in a pale papery bark which contrasts well with the foliage. Judicious pruning should be carried out to expose the trunk and lower branches so that this feature can be accentuated. The cream flowers, in brushes, are borne at the ends of the branches and are seen from September to November.
In cultivation it seems to be adaptable to a few soil types but mainly prefers slightly heavy, moist soils. It needs protection from wind and seems to prefer full sunlight. Newly growing tips have been observed to be slightly burnt by frost, but otherwise the species is frost hardy.
Fertilising is beneficial and application of a 10:9:8 fertiliser can be used to advantage. Liquid fertilisers are also useful when the plant is young. The species is easily propagated by both seed and cuttings. Seeds take seven to fourteen days to germinate and with cuttings an 80% strike rate can be expected when they are taken between November and February.
Melaleuca cuticularis can be used as a tall, informal hedge or as a specimen plant for damper areas. Some small attacks by webbing caterpillars have been noted and scale insects have also been seen. Control methods may be recommended by horticultural advisers.
Text by G. A. Butler - ANBG (1979)
Name meaning: Melaleuca cuticularis
Melaleuca - from the Greek, melas, meaning black, and leukos, white. The reason for this name is obscure although it has been suggested that it may be an allusion to the black trunk and white branches of some species;
cuticularis - from the Latin cuticula (pertaining to the cuticle), referring to the numerous strips of skin-like bark coming away from the trunk and branches