Pultenaea villosa
an 'Eggs and Bacon' pea
The genus Pultenaea is a member of the pea-flower family Fabaceae and is one of a number of genera commonly called 'Eggs and Bacon'. Many members of this family, particularly Pultenaea species and Dillwynia species, can be a little difficult to establish in a garden situation. Pultenaea villosa, however, appears to be an exception to this rule.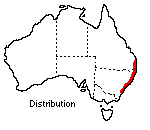 Pultenaea villosa occurs naturally over a wide area from the south Moreton district near Brisbane down through the coastal region of New South Wales to Bega on the south coast.
It forms a graceful weeping shrub 2 m high by 3 m across, much branched and spreading. Due to its excellent natural habit the shrub should be allowed to attain its full height and spread to show itself to best advantage. It is thus best grown as a specimen plant. The last 15 cm or so of the branches hang in a weeping manner. The leaves vary in length from 5 mm to 7 mm and are oblong to cuneate in shape and covered with dense short hairs giving the whole plant a greyish bloom.
Flowering is from spring to summer and the flowers are bright yellow in colour. Flowering density is high. Seed is ripe in late summer to early autumn.
In cultivation it seems to appreciate a moist soil with average drainage. The plant performs best in an open position with sun for at least half a day. Those specimens grown in the Australian National Botanic Gardens in heavier shade grow more spindly than those in an open position. Supplementary watering is needed during the warmer summer months.
Although best grown as a specimen plant, the species also makes a good, small informal hedge and tolerates light pruning very well. Propagation is carried out by either cuttings or seed and results are reasonably good from both methods. Cuttings should be from newer wood with the soft tips removed. Automatic mist-spray is not desirable during propagation. Before seed is sown it must be treated and chipping, scarifying or hot water treatments are all satisfactory.
The reddish new growth on the branches looks attractive in late winter and early spring. Pultenaea villosa appears to tolerate moister soils than many other species of pea-flowers and no pests or diseases have been noted. The species is frost hardy.
Text by G A Butler (1979)
Name meaning: Pultenaea villosa
Pultenaea - after Richard Pulteney (1730-1801), an English botanist;
villosa - from the Latin, villosus, meaning shaggy.