Baeckea gunniana
Alpine Baeckea
Botanical research on this group of plants, published in 1997, resulted in some species previously known as Baeckea being placed in other genera, mainly Babingtonia, Euryomyrtus and Rinzia.
Baeckea, as it is now defined, is widespread along the coast and tablelands of south-eastern Australia, and also has two species present in Western Australia, however it does not occur at all in South Australia or the Northern Territory.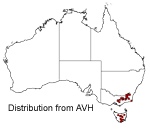 Baeckea gunniana occurs in alpine and sub-alpine sites, and is generally found in heath and sedgelands in wet rocky sites or bogs, above 1000 metres altitude. It is found chiefly south from the Kosciuszko district, and also at Mt Ginini in the ACT, and is also found in New South Wales, Tasmania and Victoria, where it is confined to alpine and subalpine areas where it is commonly found along streams and in bogs.
Baeckea gunniana is a glabrous, densely branched and aromatic shrub around 0.5-1 metre in height, although it can reach 2 metres in lower altitudes. It is sometimes prostrate or spreading over rocks and boulders. The leaves are opposite, small and crowded, and oblong to obovate shaped with a blunt apex and range from 2-4 mm long and 0.6-0.8 mm wide. The flowers are white in colour, and are small and numerous, being around 4-5 mm in diameter and borne solitary in the upper leaf axils.
The mass floral displays found in the genus Baeckea, coupled with the general ease of cultivation, have ensured that a number of species are sought after for landscaping or for placement in rockeries. The tendency of a number of species to flower over summer when few Australian plants flower is also an attractive feature of some of these species.
Some species of Baeckea are also used somewhat in the cut flower industry as floral fillers, although Baeckea flowers have a tendency to lose their petals, thus shortening their vase life and making them less attractive to the cut flower industry.
Baeckea gunniana seems to maintain its semi-prostrate habit at lower altitudes, and therefore makes a good rockery plant or is useful between other shrubs.
It responds well to regular watering, particularly in the warmer months and during dry periods. It prefers full sun or semi-shade, and also appears to flower better in colder climates. It responds well to pruning, but this is only recommended when grown in a container, or to remove dead foliage.
Baeckea gunniana flowers from December to April
Most Baeckea's, including Baeckea gunniana, can be vegetatively propagated from cuttings taken from semi-hardened new growth, although the strike rate will vary between species and also within clones within a species. Use of a growth hormone is advised as it provides better striking rates in cuttings.
Seed germination is also possible. The fruit of Baeckea species is a woody capsule, which is dehiscent at maturing. This makes seed collection difficult from plants in natural populations as the seed is small, and once released it is inconspicuous on the ground. Seed can be obtained by bagging green fruit and collecting the seed soon after it is shed. Alternatively, green fruit nearing maturity can be placed in open paper bags to collect the seeds as the fruit matures, or the seed can be dissected from the fruit.
The seed should be surface sown in spring or autumn in a greenhouse and keep the compost moist until germination takes place. When they are large enough to handle, prick the seedlings out into individual pots and grow them on in the greenhouse for at least their first winter. Plant them out into their permanent positions in late spring or early summer, after the last expected frosts.
The testa, or seed coat/covering surrounding the seeds of some Baeckea have been found to be a physical barrier preventing seed germination. Removing or nicking the testa with a needle or scalpel can therefore improve the rate of germination.
Text by Jess van der Werff (Botanical Intern 2003)
Derivation of the name: Baeckea gunniana
Baeckea (Beck-ee-a) - commemorates Abraham Baeck (1713-95), a physician and good friend of Linnaeus.
gunniana - commemorates Ronald Campbell Gunn, pioneer botanist of Tasmania.

References:
Bean, A.R., (1997), A revision of Baeckea (Myrtaceae) in eastern Australia, Malesia and south-east Asia, Telopea, Vol. 7, No. 3, pgs. 245-260

Codd, P, B. Payne and C. Woolcock, The Plant Life of Kosciuszko, Kangaroo Press, East Roseville NSW, 1998

Costin, A, M. Gray, C. Totterdell and D. Wimbush, Kosciuszko Alpine Flora 2nd Ed., CSIRO, Collingwood VIC, 2000

Harden, G.J., Flora of New South Wales Vol. 2, University of New South Wales Press Ltd., Sydney, 2002

http://www.comp.leeds.ac.uk/cgi-bin/pfaf/arr_html?Baeckea+gunniana&CAN=L

Johnson, K. and M. Burchett, Native Australian Plants: horticulture and uses, University of New South Wales Press, Sydney, 1996

Walsh, N.G. and T.J Entwisle, Flora of Victoria Vol. 3: Dicotyledons: Winteraceae to Myrtaceae, Inkata Press, Melbourne, 1996

Wrigley, J. and M. Fagg, Australian Native Plants, Reed Books, China, 1996