Gunniopsis intermedia
"the vegetation of New Holland is like Flora at a masked ball" Almedia…
Gunniopsis intermedia belongs to the Aizoaceae family (140 genera with 2,300 species).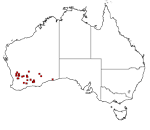 No common name has been established. In Australia Gunniopsis contains 16 species that are endemic.
G. intermedia is distributed in diverse areas of the eremanean zone of lower Western Australia, encompassing the regions of Coolgardie, Avon, Roe and Scorpion Rock.
Commonly found on flats and around sandy rises G. intermedia appears to be tolerant of saline halophytic soils comprised of low shrub land present near salt lake systems. G. intermedia, is often present in Melaleuca or Eucalyptus sclerophyll woodland.
G. intermedia grows rapidly and vegetative growth occurs in Spring. G. intermedia is a small ephemeral shrub to 50cm.,dependent on seasonal variation. G. intermedia a short lived plant if not receiving sufficient water. When neglected will not result in demise but a lower production of vegetative growth, therefore can be left unattended in the garden. The size and the life span of ephemeral plants is related to the amount and regularity of water they receive.
The leaves of G. intermedia are opposite and oblong. Colour varies from shades of green to light browns. With a shiny smooth surface the leaves can sometimes possess a crystalline structure, an intriguing quality. This is where G. intermedia deposits residual salts which are stored away from the water and nutritive conductive tissues. This individual feature allows for very low water consumption, excellent for Australia's dry, saline conditions.
G. intermedia has many small petite flowers borne at the tip of the inflorescence stalk.
G. intermedia flowers range from white to yellow complemented with a yellow outer ovary covering where the capsule releases seed when fertilized. The flowers close after dusk, to reopen in the dawn. This has been noted in cultivated examples and plants in their natural environment.
G. intermedia relies on insect pollinators (such as bees, butterflies and beetles) to fertilize floral parts, as the stamens mature before the stigmas. This trait is likely to result in out-crossing between spp. Insects are attracted to the flowers which suit the size and distinct colouration.
Stamens are numerous and placed in groups of four around the ovary. The four valves of the fruit capsule at maturation allow the release of seeds. Once the ephemeral plant dies a soil seed bank is created. The storage gives rise to the next generation (when conditions are favourable) allowing for easy collection and propagation of seed and new plants.
Maintenance of Gunniopsis intermedia is easy depending on the habitat of your garden.
With arid climate characteristics these succulents can be left to fend for themselves. Water requirements are not high unless one requires a large plant. Used as ground cover, in rock gardens and lower storey vegetation will accentuate any garden type with an indigenous feel
Sandy to sandy loam soils are excellent thus requiring decent drainage to simulate their indigenous environment. G. intermedia will not achieve their best growth with soils high in fertilizers. Sunny positions are optimal yet many herbaceous succulents need some shade to grow effectively.
Propagation is easily achieved with 10cm. cuttings and preferably left to form calices. Once hardened off the cuttings can be placed into a sandy substrate to root. Once shoots have formed these new plants can be reinstated into the garden. Use them to fill in bare dry areas of the garden or even around the perimeter of the home to slow salt damp from intruding.
Gunniopsis intermedia would make an excellent addition to any garden. Being conscious of lowering water use and incorporating Australian native plants into our environment is important. Furthermore, if we try to grow salt absorbing flora we may be creating a rich habitat that can benefit our gardens by trying to tackle salinity even in a small way.
Text by Kylie Johnson (Botanical Intern 2003)
Derivation of botanical name: Gunniopsis intermedia
Linnaeus described Aizoon (now Gunniopsis) in 1753 and there has been much taxonomic confusion and revision about the genus and species. Discovered by F. Mueller on the Babbage Expedition in 1858-61.
Mueller coined the genus name Gunnia in Aizoaceae in 1859 in honor of the Tasmanian collector Ronald Campbell Gunn (1808-81), but this was not legitimate as that genus name had already been used for an orchid.
Gunniopsis - was named and described by F.A. Pax in 1889, 'opsis' (Gk), meaning 'resemblance to' in reference to Mueller's earlier but illegitimate genus name.
intermedia- means coming between two things, in-between.

References
Alexander,S.G., (1984). Flora of Australia, V4: pp. 46,47,51. Australian Government Publishing Service.

AVH - http://www.anbg.gov.au/chah/avh/

Baines, J.A., (1981). Australian Plant Genera. The Society for Growing Australian Plants.

Chinnock, R.J., (1983). The Australian Genus Gunniopsis Pax (Aizoaceae). Journal of the Adelaide Botanical Gardens, V6(2): pp. 136, 141, 147,158-60, 166,. State Herbarium of South Australia, Botanic Gardens, Adelaide.

Sharr, F.A., (1978). Western Australian Plant Names and their meanings; A Glossary. University of Western Australian Press.

Personal communication with Bob Chinnock in the Adelaide Botanical Gardens (2003).

Photographs from the Australian National Botanical Gardens c/- M. Hancock.
http://www.anbg.gov.au/cgi-bin/nppiGenus

Photographs from Flora Base Western Australian Herbarium.
http://florabase.calm.wa.gov.au/bin/texhtml?form=wacensus.timages?taxonid=2805