Goodenia humilis
Swamp Goodenia
Goodenia humilis is part of the Goodeniaceae family, which includes about 11 genera and 400 species. There are 218 species in the genus Goodenia, 212 of which are endemic to Australia. Goodenia humilis occurs naturally in areas of suitable habitat in New South Wales, Victoria, Tasmania and South Australia. It is commonly known as Swamp Goodenia, is an attractive, carpeting ground cover.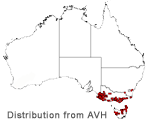 The natural habitat of Goodenia humilis is in or around swamps or areas with wet or poorly drained soils. Although tolerant of dry conditions the plant shows little growth during these periods and is most responsive when growing in areas that provide constant damp conditions.
Goodenia humilis is a dwarf, stoloniferous, perennial herb with softly hairy leaves and stems that can grow up to 20 cm high. Stems usually grow to around 9 cm in height and will spread to as much as 10 cm from the base of the plant. Rosettes of thick, linear, dentate or entire leaves to 10 cm long and 8 mm wide spread from this base. Plantlets form from the base and put out roots, allowing spread and independence in new plant growth. Flowers are arranged in racemes up the stem axis. Scapes (floral stems) are most usually zig-zag, and this, combined with the dense, soft indumentum (fine hairs) distinguish Goodenia humilis from other species in the genus. Fruits are ovoid, 30-35 mm long and seeds are yellowish brown.
Abundant bright yellow flowers sit above the foliage in spring and summer (November to March) with peak flowering occurring January to February. Swamp Goodenia is a hardy groundcover for moist or poorly drained areas. Potting or containment by rocks is an appropriate planting method where spread needs to be controlled and the plant is often used successfully in rock gardens. It thrives along drainage lines or around pools and will grow in full or part sun.
Propagation of Goodenia humilis is fairly easy and can be achieved by the practice of root division. By dividing plantlets from a main plant the species will produce suckers and spread. The plant naturally produces linear branchlets, which allow for simple division for propagation. Once split through root division the plants should be potted in well-drained moist mix and should ready to plant out in around four weeks. Propagation by seed is also possible but division is the preferred method due to its simplicity.
Genetic diversity of wild populations of Goodenia humilis would be supported by the use of propagation from seed, although in most gardens this would not be a necessary requirement.
Trials for cultivation of Goodenia species have been minimal at this point, although ease of cultivation and the combination of attractive growth habit, flowers and foliage, makes the genus and this species in particular, an ideal candidate for cultivation.
Text by Jemma Walshe (2004 Student Botanical Intern)
Derivation of the name: Goodenia humilis
Goodenia - named after Samuel Goodenough (1743-1827) a botanist who's main interest was in sedges and seaweeds, and whose accreditation included being Bishop of Carlisle, Vice-President of the Royal Society of London and treasurer of the Linnaean Society.
humilis - means low or low growing.
References
Australia's Virtual Herbarium 2004 – http://www.anbg.gov.au/avh

Carolin, R.C., Rajput, M.T.M. & Morrison, D. (1992), In: George, A.S. (ed) "Brunoniaceae, Goodeniaceae, Flora of Australia", Vol. 35. Australian Government Publishing Service, Canberra.