Grevillea iaspicula
Wee Jasper Grevillea
Grevillea iaspicula (Wee Jasper Grevillea) was only named in 1986, though it was first collected in 1966. This species is a member of the family Proteaceae. It is only found naturally at six sites around the Lake Burrinjuck and Wee Jasper areas. In total there are only about 100 mature plants left in the wild, making it one of Australia's rarest plants. It is listed as endangered under the Environmental Protection and Biodiversity Conservation Act 1999 (Commonwealth). The species is endangered due to the heavy grazing of sheep and goats. Most of the remaining plants are in found in rocky areas that have been inaccessible to grazing.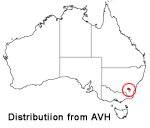 At some of the Grevillea iaspicula sites, G. rosmarinifolia is also found. Hybridisation between the two related species does occur, affecting the genetic purity of the rarer of the two species. The NSW National Parks and Wildlife Service and other stakeholders are involved in a recovery program. They are replanting clones of the current populations in several sites to increase its spread and also are using clones to replant at bushfire affected sites. Fencing and weed control work has also been undertaken, blackberries being a significant threat. G. iaspicula is also important in for birds, the flowers providing invaluable nectar.
The shrub has an average height of 1.2-1.5 metres, however plants can grow up to 4m high. The leaves are attractive, glabrous and sometimes pungent; the upper surface is noticeably wrinkled. The inflorescence is usually terminal, pendulous, about 2-3 cm long, each with up to ten flowers. The flowers are cream to green, with a pink to red style. It flowers in May to November and the flowers last for several weeks. It fruits in November to December and the seed are released in December to January.
Grevillea iaspicula naturally occurs on limestone and can be grown in stony, heavy well draining soils. This species is frost and lime tolerant and likes growing in dry, shady to sunny areas. As with all grevilleas, G. iaspicula has proteoid roots and therefore need low phosphorus fertilizers. It is a good idea to prune the plant from a young age to keep it bushy. It is also advisable to prune back after flowering.
Cuttings are the best way to propagate, though it is also possible to grow from seed. Cuttings are best taken in late winter with semi-hardwood material. It is best if they are 8-10 cm long, with the bottom third of the leaves removed. The best hormone to use is IBA at strength of 2000-4000 ppm. The roots take about eight weeks to develop. The Wee Jasper Grevillea is a stunning addition to a garden with the right soils and is likely to attract native nectar feeding birds.
Text by Janis Drake (2004 Student Botanical Intern)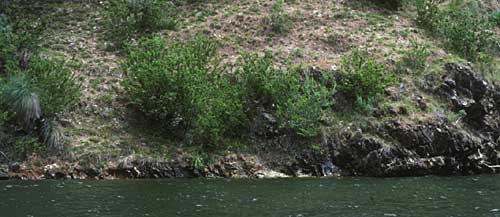 Shrubs on the edge of Lake Burrinjuck
Derivation of the name: Grevillea iaspicula
Grevillea – Named after Charles Francis Greville (1749–1809), co-founder of London Horticultural Society, a patron of botany.
iaspicula – derives from 'iaspis', which is Latin for Jasper and 'ul' which is Latin for small.
References
ASGAP (2004) Grevillea iaspicula http://farrer.riv.csu.edu.au/ASGAP/g-ias.html Accessed: Feb 2004.

Butler, G., Richardson, M. & Ganter, W. (1991) Recovery Plan for Grevillea iaspicula (Wee Jasper Grevillea); ANBG; Australia.

Olde, P. & Marriot, N. (1994) The Grevillea Book Volumes 1 & 2; Kangaroo Press; Australia.

McGillivray, D.J. (assisted by R.O. Makinson) (1993) Grevillea (PROTEACEAE): A taxonomic revision; Melbourne University Press; Australia.