Isopogon formosus
Rose Coneflower
Isopogon formosus commonly known as the Rose Coneflower is part of the family Proteaceae. It is one of the 27 species of Isopogon that are naturally occurring in Western Australia. Isopogon formosus is generally found growing close to the coast in heath land and dry sclerophyll woodlands. They can be found south of Perth from Brusselton to the Stirling Ranges and as far as Esperance.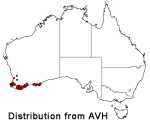 It is an erect or spreading shrub 1.5-2 m tall. The leaves are divided and crowded along the stem. The divided segments are a narrow, grooved, terete (cylindrical) and are about 5 cm in length. The young growth is silky-hairy, often reddish and is a particularly attractive feature of the plant.
The flowers are a rose-pink to pale pink in colour and are clustered together to form a flower head at the ends of branches. The flowers bloom in winter and spring and droop downwards once they open. The styles are long, bright yellow aging to a red colour. Globular cones are borne terminally in the leaf axils in late winter - spring they are 1.5-2 cm in diameter. The fruiting cone is held on the plant for some time before breaking up.
Isopogon formosus prefers full sun to partial shade in a well-drained sandy or gravelly soil. In the Australian National Botanic Gardens (ANBG) in Canberra they use a special mix of 2:1 sand and granite. It will tolerate light or moderate frosts but will not tolerate heavy frosts or extended periods of dryness. It can be propagated by either seed or cutting. The ANBG have had more success with cuttings than seed. When taking cuttings use older material, not that from the soft tips. A rooting hormone such as IBA should be used to promote root growth.
Isopogon formosus responds well to light pruning which improves the shape. Tip pruning from an early stage promotes lateral growth, however it must not be over pruned. I. formosus lacks a lignotuber it cannot regenerate from the rootstock if pruned too severely. It does not suffer from any particular pest but is susceptible to the root rot fungus Phytophthora cinnamoni. You should also only use a slow release fertiliser or one that is suitable for Australian natives as this Isopogon is particularly sensitive to soluble phosphorus.
It is difficult to cultivate this plant in the eastern states, as it will not tolerate humidity and is less hardy than some of the naturally occurring eastern species. A possible alternate way for it to be grown is to grow it in a pot as the particular conditions it requires can be satisfied readily and be more easily monitored. It is well worth attempting to grow, as it is a spectacular plant that can be used as a feature in the garden all year round.
Text by Rachael Corvisy (2004 Student Botanical Intern)
Derivation of the name: Isopogon formosus
Isopogon - isos – equal, pogon – beard alluding to the fringed flowers.
formosus - beautiful or good looking.
References
Eslick, C. (Ed.).(1996) A field guide to native Australian plants. Sydney: Murdoch Books

Matthews, L.J (2002). The Protea book. Christchurch: Canterbury University press.

Pankhurst, R. & Hyam,R. (1995) Plant and their names: A concise dictionary. New York: Oxford university press.

Sainsbury, R.M (1987) A field guide to Isopogons and Petrophiles. Western Australia: University of Western Australia Press.

Wrigley, J.W. (2003) Australian native plants: cultivation, use in landscaping and propagation. Sydney: Reed New Holland.

Wrigley, J.W. (2000) Banksias, Warratahs & Grevilleas, and all other plants in the Australian Proteaceae. Sydney: William Collins Pty Ltd.

Isopogon. (Nov 2001). Isopogons and Petrophiles No.1,3