Olearia iodochroa
Violet Daisy Bush
Olearia iodochroa (F.Muell.) Benth.
The native flowering plants of south eastern Australia have often been under utilised by the horticultural industry, however Olearia may be destined to become a popular exception. The species Olearia iodochroa is endemic to the low woodland and dry sclerophyll forest of south eastern NSW and eastern Victoria. Its native habitat is distributed along rocky hillsides, barren outcrops and ledges above gorges. Belonging to the Asteraceae family, Olearia is often a short-lived genus, however O. iodochroa is considered one of the easier species both to cultivate and artificially enhance its longevity.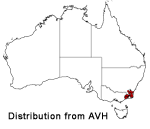 The appearance of the genus Olearia has been described as a humble daisy that has been transplanted onto a bush, hence the genus common name 'daisy-bush'. The species O. iodochroa is a beautiful small shrub measuring from 0.8-1.5 m high to 1-1.5 m wide with bright leaves that are appealing even when the plant is not in flower. During the months of September to November the plant is covered in such an abundance of flowers that the dark green foliage can hardly be seen. The foliage also produces a slightly curry-scented aroma. The flower heads are the most characteristic feature of O. iodochroa. The ray florets measure 8-15 mm and can be white, violet or deep mauve. The disc florets measure of similar size can be cream, yellow or blue.
When planted side-by-side and pruned, Olearia iodochroa forms a thick hedge that makes a striking feature in a garden. Propagation of O. iodochroa can be achieved from either seed or cuttings. Seeds should be sown in a media containing half sand and half vermiculite, then sprinkled with a light covering of sand. Cuttings can be taken any time of year from the semi-hard wood, however a better strike is achieved from cuttings of juvenile plants. Cuttings will need to be dipped into a rooting hormone and placed in a propagation house at 20-22 degrees with intermediate mist and covered by up to 70% shade. Cuttings should strike within 4-6 weeks. They should then be transferred out of the propagation house to allow them to harden off; they can then be potted into tubes about 40 mm in diameter. The potting media should have 70-80% decomposed pine bark and 20% washed river sand with additional control release fertiliser.
Cultivation of Olearia iodochroa can be achieved by planting early just before spring. This species is a hardy plant and will subsist in a range of soils but is best suited to well-drained sandy loam. O. iodochroa can grow in full sun or partial shade but will die if grown in full shade; regular watering is also required. Pruning after flowering will not only enhance next season's blooms but will also encourage a bushy habit and double the life span to 5-7 years. A general fertiliser can be applied in spring or late winter. If fertilising in winter use a slow release fertiliser, which in turn will increase the plant height and produce greater blooms.
Text by Rachael Carter (2004 Student Botanical Intern)
Derivation of the name: Olearia iodochroa
Olearia - named in honour of German botanist, J.G.Oelschlaeger (1635-1711) [Latinised as Olearius];
iodochroa - means violet-coloured, which correlates with its common name violet daisy bush.
References
Elliot, W.R. & Jones, D.L. (1997) Encyclopedia of Australian Plants: suitable for cultivation, Vol. 7, pg. 82, Melbourne: Lothian.

Irons, J. (2000) Olearias. In Association of Societies for Growing Australian Plants: The Australian Daisy Study Group Newsletter No. 58

Richards, S. (1995). Under-utilised olearias set for take off. Australian Horticulture, Vol. 93 (10), pg. 98.

Schaumann, M, Barker, J. & Greig, J. (1987) Australian Daisies: for gardeners and floral art. Lothian Publishing Company Pty Ltd

Spender, R. (Ed.). (1995). Horticultural flora of south eastern Australia. Flowering plants Dicotyledons: Part 3: The identification of garden and cultivated plants. Sydney: UNSW Press.