Wollemia nobilis
Wollemi Pine
Wollemia nobilis W.G.Jones, K.D.Hill & J.M.Allen
Wollemia nobilis is a conifer in the plant family Araucariaceae with its closest relatives being the Kauri, Norfolk Island, Hoop, Bunya and Monkey Puzzle pines. The discovery of the Wollemi Pine in 1994 created great excitement in the botanical community due to its resemblance to conifer fossils like Dillwynites and Agathis jurassica.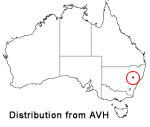 Wollemi Pines are restricted to approximately 40 adult and 200 juvenile Wollemi Pines growing in the Wollemi National Park of New South Wales, 200 km north-west of Sydney. The rare nature of the Wollemi Pine has seen it listed as endangered under the Environment Protection and Biodiversity Conservation Act 1999 (Federal). The two sites that the trees grow in are located between altitudes of 670 - 780 m in a deep, shaded sandstone gorge.
The Wollemi Pine is a tree, which can grow up to 40 m in the wild with a trunk diameter reaching up to one metre. The bark of the tree is bubbly in appearance, chocolate brown colour in colour. It is monoecious, meaning that each plant has both male and female sexual reproductive cones. These cones appear at the end of branches, the female cone always growing above a male. The Wollemi Pine has two types of branches, one that grows upright looking like a trunk arising in most cases from the base of the tree, and another that grows laterally and bears sessile leaves. One amazing characteristic of the Wollemi Pine is that of every plant growing in the wild has the exact same DNA, making the species even more special.
The cultivation of the Wollemi Pine is similar to other conifer species. Plants can be grown from seed or struck from tip cuttings. If growing plants from cuttings then a strong breeding hormone is recommended (5,000-10,000 gms/litre) to promote root growth. Striking plants can be placed in cells or tube pots filled with river sand. Most plants will take six months to strike but this is variable depending on type of stock plant, season, and growing environment. Once the plant has struck, pot it in a standard conifer mix (70-80% pine bark; 20% river sand) and water it in accordance to the time of year. An interesting note about striking the Wollemi Pine is that cuttings taken from the top of the tree will produce a vertical growing plant, whilst cuttings taken from the bottom of the tree will produce horizontal growth.
Wollemi Pines can be grown outdoors in most climates of Australia. Given the size of adult trees it is not recommended for small yards unless it is grown in a pot. In the first couple of years it should be grown in half shade however after this time period it can be grown in full sunlight. Sandy soil with good drainage is recommended. Be wary of waterlogged soil, either through over watering or poor drainage. Watering should be increased in the summer months especially when the tree breaks (opens it new leaves) around November-December, although this may vary depending on your location in Australia. The Wollemi Pine can handle frosty conditions and in the wild occasionally has to cope with snowfalls. The tree can be fertilized once a year with any general fertilizer such as Aquasol. Fungal infection can occur, especially Phytophthora, this is more likely when grown in a pot.
The Wollemi Pine was first released to the general public in 2006. For more information about when and how to obtain a Wollemi Pine, visit the official website at:
http://www.wollemipine.com/
Another useful link is through the Royal Botanic Gardens Sydney:
http://www.rbgsyd.gov.au/information_about_plants/wollemi_pine
Original text by Andrew Thornhill (2004 Student Botanical Intern); updated online
Derivation of the name: Wollemia nobilis
Wollemia – This is the Latin form of the word Wollemi, the name of the National Park in New South Wales where the trees is found.
nobilis – The species epithet is a tribute to David Noble who discovered the first stand of Wollemi Pines on an abseiling trip in 1994.
References
Anon (1999) Threatened Species Information – Wollemia nobilis, New South Wales Parks and Wildlife Service.

Jones, W.G., K.D. Hill and J.M. Allen (1995) Wollemia nobilis, a new living Australian genus and species in the Araucariaceae, Telopea 6 (2-3): 173-176.

Meager, P. and C. Offord (2002) The Wollemi Pine: More Than a New Landscape Tree, Parks and Leisure Australia 5(4): 11-14.