Hakea corymbosa
Cauliflower Hakea
The Hakea genus belongs to the Proteaceae family and is comprised of approximately 150 known species all of which are considered endemic to the Australian continent. Hakeas grow in a wide variety of environmental conditions including coastal, tropical, desert and mountainous habitats. However the largest diversity of this genus has been recorded in the southwestern region of Western Australia. One of the most striking species exhibiting formative beauty found in this region is Hakea corymbosa.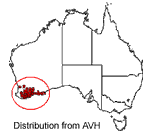 H. corymbosa, or the Cauliflower Hakea as it commonly known, is an extremely hardy (and prickly) native perennial. It is commonly distributed from Mt Caroline south to Wagin and Denmark and has also been recorded to the east at Israelite Bay.
It is a very attractive single stemmed shrub with a distinct bun shaped to columnar habit. Growing to approximately 2 m in height by 2.5-3 m in breadth as a mature adult, it produces what are known as "water canes" which are juvenile shoots that have longer leaves than the mature foliage. After approximately 12 months, these water canes mature and fill out, and develop into a new cluster of foliage.
One reason for choosing to cultivate this plant is the distinct dense 'cloud' or 'pillow' shaped clusters produced by the foliage. This is an attractive feature occurs naturally without any need for pruning, as is often a requirement when dealing with other plants. The flowers of H. corymbosa are pale green to yellow and are visible from May to September. The flowers compliment the already attractive cloud like form of the foliage by filling in the gaps with an abundance of fragrance and colour.
Another desirable aspect of H. corymbosa is that it is recommended for attracting birds. It has very rigid thick waxy leaves (sclerophyllous), which are linear in shape with a very sharp needle like apex. The leaves, which vary in size, are alternate and can measure anywhere between 3-12 cm in length and 2.5-10 mm in width. The dense, spiky foliage provides an ideal refuge for small birds and other small animals but can also make an excellent natural hedge or barrier around the garden or pathway.
Successful cultivation of this plant, as with most Hakeas, can be achieved easily from seed either by direct seeding or in a pot preferably with an Australian certified potting media. If growing in a pot choose a low phosphorus and low nitrogen fertiliser as these plants have adapted to tolerate low nutrient levels in their natural environment. Propagation by cuttings can also be achieved however the success rate is much lower.
For best results, plant H. corymbosa in a well drained sandy or gravely soil and water occasionally. It is generally a low maintenance shrub that prefers a sunny position and can tolerate moderate frosts.
Although this plant is not commonly grown in the east of Australia, Hakea corymbosa is becoming increasingly popular. This is mainly due to its unusual habit, low maintenance value and practical border edging capabilities. We will no doubt be encountering this wonderful Australian plant more and more in gardens as time goes by.
Text by Troy Brown (2005 Student Botanical Intern)


Derivation of the name: Hakea corymbosa
Hakea – First described by Schrader and Wendland in 1797 and named in honor of Baron Ludwig von Hake, who was a German patron of botany.
corymbosa – flowers in corymbs (flowers finishing in clusters of equal level).
References
Beardsell, D., Jones, D. and Kerr, R. (2003) Hakea. Available: [on-line] farrer.riv.csu.edu.au/ASGAP/hakea.html

George, A.S. (1984) An Introduction to the Proteaceae of Western Australia. Kangaroo Press, Australia.

Pieter, P. and Lambers, H. (2003) Habitats, biological diversity and wetlands. The Journal of Ecology. Vol. 91: 58.

CALM (2005) FloraBase . Available: [on-line] www.florabase.calm.wa.gov.au

Wilson, A. (1999) Flora of Australia. Volume 17B. Proteaceae 3, Hakea to Dryandra. Melbourne: ABRS/CSIRO Australia.