Micromyrtus grandis
Micromyrtus grandis J.T.Hunter
Micromyrtus grandis (no common name), family Myrtaceae, is an elegant shrub or small tree up to 6 m tall, with one to many graceful, arching stems. The opposite leaves are small, simple and deep green, rather sparse along the stems but dense toward the ends where they are interspersed with many small delicate flowers. These white to cream flowers, have green centres and occasional pink tips on the small, spreading petals. A striking character is the rich orange-brown stringy bark, which is shed in long strips along the stems and collects in attractive curls in the centre of the shrub.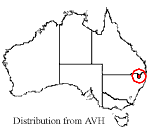 This plant is naturally known from only one location, the Severn River Nature Reserve on the North Western Slopes of New South Wales, growing on exposed rocky outcrops and surrounding shallow soil. With a range of less than 100 km in Australia, it is considered endangered and, although there is one population in a reserve, in serious risk of disappearing from the wild. There are also currently very few are in cultivation.
Australian National Botanic Gardens has had Micromyrtus grandis in cultivation since 1998 and has found it to be extremely hardy; tolerant of sun, frost, drought, heavy rain and a variety of soils, with no evidence of insect attack. Since planting in June 1998 to January 2005 one plant has grown to about 2 m. The stems may be successfully pruned if a thicker growth and smaller size is desired but when left unpruned give more dimension with elegant arches and clusters of flowers at the ends, revealing curls of orange-brown bark at the centre of the shrub. Flowers are produced almost continually from winter to late summer, the small reddish peduncles persisting for at least three seasons. Propagation from seed has not yet been trialed but it is easily propagated from cuttings.
A close relative, Micromyrtus ciliata (Fringed Heath Myrtle), is a popular garden shrub, similar to M. grandis but smaller, prostrate and lacking the attractive arching shape and red-brown, curling bark. The flowering sprays of Micromyrtus ciliata are pretty additions in fresh floral arrangements and if slowly dried useful in dried displays; M. grandis could potentially be used the same way.
Micromyrtus grandis would suit any garden but has special appeal to the gardener looking for a very hardy, easy to grow, attractive shrub requiring little attention and in urgent need of conservation.
Text by Susan Jalaluddin (2005 Student Botanical Intern)
Derivation of the name: Micromyrtus grandis
Micromyrtus – micro - small; myrtus – a Myrtle, referring to family Myrtaceae.
grandis – large, this species is the largest in the genus.
References
Hunter J.T., Quinn F.C. and Bruhl J.J. (1996) Micromyrtus grandis (Myrtaceae), a new species from New South Wales. Telopea 6(4):77-82.

NPWS (2005) NPWS Threatened species information , Hurstville (www.npws.nsw.gov.au) Accessed February 2005.

Beeton, I. (1971) ANBG Growing Native Plants. Micromyrtus ciliata . (http://www.anbg.gov.au/gnp/gnp1/micromyrtus-ciliata.html) Accessed February 2005.