Mirbelia speciosa
Mirbelia speciosa Sieber ex DC.
The flowers of Mirbelia speciosa (family Fabaceae) are a beautiful pink to pinky purple colour and even a white flowered form has been recorded. They have a single flower per each of the axils; each one is on a pedicel 1-3 mm long and has a pair of bracteoles 2-6 mm long at the base of the calyx. The calyx is 6-7 mm long and is more or less covered with silky hairs pressed close to or lying flat against the stem. The flag (standard) of the flower is about 9 mm tall, and 14 mm wide, it is deeply indented at the tip with two yellow "eyes" at the base. The wings of the flower are about 11 mm long when measured from the base of the calyx, and are more than twice as long as the purple tipped keel. The pod is 10-15 mm long including the short stalk above the calyx about 3 mm wide and 5 mm broad, it has10-12 seeds and is brown to black when ripe.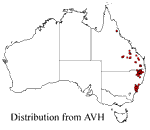 This lovely plant is a small erect shrub and has a maximum height of 1 m tall. The stems are angular and generally hairless. The leaves often appear in irregular but in well-separated whorls of three or alternating. The leaf blade is 10-50 mm long and is the margins are rolled downwards; they are more or less parallel and are indistinctly pointed. The leaves are generally hairless or sparsely covered with silky hairs pressed close to the leaf.
This plant prefers soil that is well drained, this plant is not recommended for clay soils. It can also suffer when exposed to a heavy frost environment. If fertilizers are to be used choose products that have a low pH. Mirbelia speciosa can live in full sun but it prefers to grow amongst other plants that will provide a moderate degree of shade. This plant is best if mass planted; when it flowers in late winter to early spring it will bring your garden to life.
M. speciosa strikes readily from tip cuttings. An alternative to this is to germinate the seeds using a hot water treatment. This is a process by which the plants are put into a bath of hot water (water that has been off the boil for about 2 minutes) and left over night the next day they are left to air dry and are then planted they should germinate within two weeks.
The beauty of this native pea will add tremendous appeal to your garden. The effective use of mass plantings laden with pink and purple flowers would become a showy feature of any garden!
Text by Alanna Murdoch (2005 Student Botanical Intern)
Derivation of the name: Mirbelia speciosa
Mirbelia - after Charles Francois Brisseau de Mirbel (1776-1854), French botanist.
speciosa – meaning beautiful, good looking, showy and beautiful.
References
Thompson, J. (1961) Papilionaceae. Contributions from the New South Wales National Herbarium, Flora Series 101(1): 16-21.

Hacker, J.B. (1990) A guide to herbaceous and shrub legumes of Queensland. University of Queensland Press, St Lucia.