Zieria citriodora
A member of the Rutaceae family, Zieria citriodora is a delightful plant that should be more widely grown. Armstrong only described it in 2002 and perhaps this accounts for its relative anonymity in gardening circles. It is a woody sub-shrub that grows to 15 cm and spreads by rhizomes. Its four-petalled flowers are pale pink to white and are in bloom from late winter to late summer. They are conspicuous, borne in the axils and are approximately twice the length of the leaves. The branches, petioles and leaves are all covered in tiny hairs. Like many species in this family its leaves are dotted with oil glands and are highly aromatic, when crushed they smell strongly of lemon.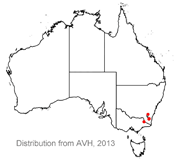 There are 44 described species of Zieria , all are native to Australia except one, which is found in New Caledonia. The distribution of Z. citriodora is limited. There are two populations in the Kybeyan Ranges east of Cooma in the southern tablelands of NSW, and four populations in northeast Victoria. It is estimated that only 600 plants are growing in the wild. Many plants have now been cultivated at the Australian National Botanic Gardens in Canberra.
Zieria citriodora grows under Eucalyptus macrorhyncha, E. mannifera and E. dives forests on moderate, north-west to north-east facing slopes, usually near small, non-perennial streams. It grows on shallow, gravelly to sandy loams which are highly erodable. These soils are consequently susceptible to degradation from trampling by herbivores and damage from trail bike riders. Such activities pose a significant risk to the long term viability of wild populations and it is listed as 'threatened' under the NSW Threatened Species Conservation Act. There have been recent moves to have this classification upgraded to the more serious 'endangered' category.
Zieria citriodora prefers a well-drained, acidic soil. Growing it near rocks or under gravel mulch may help to provide a cool root run and assist longevity. It appreciates regular watering through its first summer, particularly if the soil is well-drained. Adequate watering through extended dry periods is also recommended. Little fertilizer is needed with this species. It is not the victim of any major pests or diseases, although fungal root problems may result if it is planted in poorly-drained soil. Z. citriodora is frost tolerant, experiencing regular frosts in its natural range. It will grow in sites with an exposed aspect but will tolerate dappled, late afternoon shade. Propagation is from cuttings and firm, new growth should be used.
Zieria citriodora lends itself to being planted along paths and beside outdoor living spaces so that people can readily enjoy its very pleasant perfume.
Text by Jacqueline Jenkins (2005 Student Botanical Intern)
Derivation of the name: Zieria citriodora
Zieria (pronounced Zeer-ee-a) - Sir James E. Smith described and named the genus in memory of his friend Jan Zier, a polish botanist who had died in London in 1796. In German the word 'zier' means adornment, or decoration, and it is thought that the name could be of German origin.
citriodora - lemon-scented.
References
Armstrong, J.A. (2002) Zieria (Rutaceae): a systematic and evolutionary study.

Australian Systematic Botany , 15, 277-463

Baines, J.A. (1981) Australian plant genera: an etymological dictionary of Australian plant genera . Society for Growing Australian Plants.

Harden, G.J. (ed.) (2002), Flora of New South Wales vol. 2. UNSW Press, Sydney.

Wrigley, J.W. & Fagg, M. (1988), Australian native plants: Propagation, cultivation and use in landscaping . 3 rd ed. Angus & Robertson, Sydney.