Grevillea mollis
Grevillea mollis Olde & Molyneux (1994)
Looking for a Grevillea with soft foliage that will tolerate shade? One with attractive arching foliage that flowers all year? Or perhaps one that will tolerate frost and snow?
Grevillea mollis might be just the Grevillea you are looking for.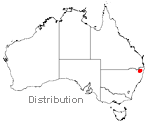 G. mollis was first described in 1994 by P. Olde and N. Molyneux who found a population of only 150 shrubs. Further populations have since been found and records show it is locally common in two conservation areas near Grafton in north-east NSW - Gibraltar Range National Park and Nymboida National Park.
In its natural environment, the evergreen G. mollis grows on ridges, steep slopes among granite rocks and creek flats in dry sclerophyll forests and grassy woodlands at altitudes between 150 m and 900 m, mainly in association with Eucalyptus campanulata (New England Blackbutt), E. carnea (Thick-leaved Mahogany) and E. tindaliae (Tindale's Stringybark). Due to its restricted range it is a listed Endangered Species under both the Environment Protection and Biodiversity Conservation Act 1999 and the Threatened Species Conservation Act 1995 (NSW).
A spreading shrub with an open form, G. mollis will grow to a height of 1-2m. The soft oblong to linear oblong leaves are a simple shape and range from 2.8cm to 10cm long, and 0.4 to 1.4cm wide. They have short petioles and are covered on both sides with downy pubescent hairs. The branches arch elegantly displaying the pink tips of new growth to best advantage.
Its scarlet flowers occur in groups of up to 20, mostly in winter-spring, but there will be a few on the shrub in groups of about four all year round. Being scarlet, they can be expected to attract birds to your garden. Because the flowers are small and blended amongst the foliage, the effect of their scarlet colour is subtle rather than a dominating, scarlet statement in the garden.
Although G. mollis regenerates from seed in the wild, it is not easy to collect large amounts of seed for propagation. However, it has been cultivated successfully from 10cm long cuttings of firm new growth. Prepared cuttings treated with a growth hormone will take 6 to 8 weeks to strike when placed on heat and regularly misted.
Judging by its natural habitat, it is recommended that G. mollis be planted in well-drained, acidic, sandy soil. Specimens in the Australian National Botanic Garden have grown bushy enough to provide dense cover for small birds and privacy screening when regularly watered.
However, to prevent fungal spots on the leaves, a dripper is recommended so that foliage is not regularly wet. Excess top growth can be pruned to retain desired bushy form. No significant pests are known to cause damage to G. mollis.
Text by Gillian Lee (Student Botanical Intern 2006)
Derivation of name: Grevillea mollis
Grevillea – after Charles Francis Greville (1749 – 1809), a patron of botany, a Fellow of the Royal Society and an office-bearer of the Horticultural Society.
mollis (Latin) – meaning soft and referring to the texture of the leaves.
References:
Wilson, A. (Ed) 2000, Flora of Australia – Volume 17A, Proteaceae 2, Grevillea, Australian Biological Resources Study/CSIRO Australia: Melbourne.

Debenham, C. 1978, The Language of Botany, Society for Growing Australian Plants, Chipping Norton, NSW.

Department of Environment and Conservation, NSW threatened species - Soft Grevillea, Available at http://www.threatenedspecies.environment.nsw.gov.au/tsprofile/profile.aspx?id=10370 [Accessed 19 February 2005]

Olde, P. and Marriot, N. 1994, The Grevillea Book – Volume 1, Kangaroo Press: Kenthurst, NSW.

Urquhart, P. 1999, The New Native Garden: Designing with Australian Plants, New Holland Publishers, Sydney.