Goodenia macmillanii
Pinnate Goodenia
Goodenia macmillanii is a beautiful and unusual species of Goodenia because of its purple-mauve flowers and bright green leaves. It is commonly known as the Pinnate Goodenia and belongs to the family Goodeniaceae of which there are 179 species of Goodenia.
Baron Ferdinand von Mueller named and described the plant in 1859; he was the Victorian Government Botanist at the time, and spent his time exploring and collecting plants in Victoria.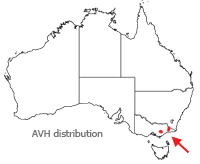 Goodenia macmillanii is endemic to Victoria, and only in a few locations at that. It is rare and vulnerable because of its small distribution. It is found in a few locations in East Gippsland in valleys of the Macalister, Deddick and Snowy Rivers.
It is short lived, perennial, grows up to half a metre and is an erect shrub. It has pinnately lobed/lyrate, ovate shaped leaves with highly toothed margins (4-8 cm long) on deeply ribbed stems. The flowers have a purple-mauve corolla 18-22mm long and cylindrical fruit 10-12mm long. Flowering occurs between November and February.
The corolla colour of Goodenia macmillanii distinguishes it from other east coast Goodenias which generally have yellow flowers. There is one other Goodenia (G. grandiflora) that grows on the east coast of Australia that has similar coloured flowers however its leaves are not pinnate and therefore the species are easily distinguishable.
Goodenia macmillanii is a desirable garden plant because it has beautiful flowers and foliage, and is rare and unusual. It grows best in sandy loams. However it will grow in clay and rocky soils. If using potting mixes, a well balanced mix is fine, low phosphorus potting mix is not needed as with many other native species.
It grows best in a confined space or with something to grow against making it ideal for a pot or in a rockery. It can grow in sun or shade and is fairly drought tolerant however it will grow best in moist soils. Another positive is that it has no known pests or pathogens. A drawback is that it is frost sensitive; light to moderate frosts can be okay, however heavy frosts with kill young plants and knock back mature plants.
Propagation is best done by dividing up the suckers that are produced by the main plant. This is best done in early summer or slightly before, when the plant is at its most active and therefore has the best chance of taking off after division.
Text by Sabrina Norris (2008 Student Botanical Intern)
Name Meaning: Goodenia macmillanii
Goodenia – Named in 1793 after Samuel Goodenough, Archbishop of Carlisle and member of the Linnean Society.
macmillanii - Named after Angus MacMillan, explorer and pioneer of Gippsland, Victoria. He discovered and named the Macalister River were the type specimen was collected.
References
George, A.S. (ed) (1992) Floraof Australia – Brunoniaceae, Goodeniaceae, Vol. 35. Australian Government Publishing Service, Canberra.

McAuliffe, J. (2008) Australian National Botanic Gardens, Canberra. Personal communication.

Mueller F.J.H von (1859) Fragmenta phytographiæ Australiæ. Melbourne

Mueller F.J.H von (1885) Key to the System of Victorian Plants Vol 2. Government Printer, Melbourne.

Walsh, N.G & Entwistle T. (1999) Flora of Victoria Vol. 4. Inkata Press, Melbourne.