Leptospermum thompsonii
Monga Tea tree
Leptospermum thompsonii Joy Thomps.
Leptospermum thompsonii is a member of the large family Myrtaceae. Like many other Leptospermum the leaves of Leptospermum thompsonii contain aromatic oils. The genus Leptospermum consists of 79 species endemic to Australia and they are commonly known as tea trees. This particular species is commonly named the Monga Tea tree.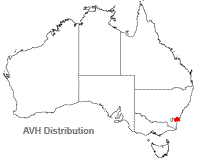 Leptospermum thompsonii has a limited distribution found in tall moist forests of Clyde Mountain in the Monga National Park in south-eastern New South Wales. It has been listed as vulnerable under the Environment Protection and Biodiversity Act 1999. Its biggest threat is fire and its current location near the Kings Highway, a major highway between Canberra and the coast. Its location may have an effect on the population due to oils spills, rubbish dumping and road works, whilst the species will not regenerate after fire.
Leptospermum thompsonii is a medium shrub sized to 6 metres wide with a rough, flaky and fibrous bark with the younger stems covered in short soft hairs. It has broad elliptical to obovate leaves between 10-15mm long by 4-6mm wide. The leaves have a spreading habit on a short thick stalk, are nearly hairless and aromatic. The solitary, white flowers are 15mm in diameter, on terminal short branchlets. Leptospermum thompsonii flowers profusely in summer (December to March). The fruits are 9-10mm in diameter and are often seen as they persist on the branchlets.
Experience in the Australian National Botanic Gardens (ANBG) demonstrates that optional growing conditions for Leptospermum thompsonii is part sun or dappled light. However it is possible that they can grow well in full day sun as long as soil is kept moist.
Although not known in commercial cultivation Leptospermum thompsonii could be useful for general planting. It is frost hardy and plants may adapt to a wide range of climatic conditions.
The species is a fast growing plant reaching reproductive maturity in approximately 5 years. Once the plant is established minimal maintenance is required with pruning after flowering being favourable in forming a bushy shrub rather than an open woody plant. Fertilising after flowering with a low phosphorus native fertiliser is recommended.
Propagation can be achieved by cuttings or seed. However, as this species is currently listed as vulnerable under the Environment Protection and Biodiversity Act 1999 material must not be collected from wild plants. At this stage there is no known source of legal material for cultivation. Should this change in the future Leptospermum thompsonii would make an excellent garden plant across a wide range of conditions.
Text by Michele Greenfield (2009 Botanical Intern)
Photos: (1) © APII - M.Fagg (2) © M.Greenfield
Name Meaning; Leptospermum thompsonii
Leptospermum – a Latinized Greek compound; from leptos meaning slender and sperma meaning seed.
thompsonii– named after M. M. H. Thompson, husband of the botanist J .Thompson
References
Australia's Virtual Herbarium (AVH) (2009). Council of Heads of Australian Herbaria (CHAH). Available at http://www.cpbr.gov.au/chah/avh/index.html.

Australian Native Plants Society ( Australia) (2007) Leptospermum and Relatives – Propagation. Available at http://asgap.org.au/leptos2.html

Briggs, J.D. & Leigh, J.H. (1995) Rare or Threatened Australian Plants. CSIRO Publishing, Victoria.

Brophy, J.J., Goldsack, R.J., Bean, A.R., Forster P. I. & Lepschi, B. J. (1999) Leaf essential oils of the genus Leptospermum (Myrtaceae) in eastern Australia. Part 3. Leptospermum arachnoides and allies, Flavour and Fragrance Journal 14: 85-91.

Department of Environment and Conservation (NSW) (2005) Threatened species, populations & ecological communities of NSW, Monga Tea Tree – profile. Department of Environment and Conservation (NSW) Threatened Species website. Available at http://www.threatenedspecies.environment.nsw.gov.au/tsprofile/profile.aspx?id=10469

Department of Environment, Water, Heritage and the Arts (2009) Listed species and ecological community permits in or on a Commonwealth area. Available at

http://www.environment.gov.au/epbc/permits/species.html

Elliot, W.R. & Jones, D.L. (1993) Encyclopaedia of Australian plants suitable for cultivation Vol. 6. Thomas. C. Lothian, Melbourne.

Thompson, J. (1989) A revision of the genus Leptospermum (Myrtaceae). Telopea, 3(3): 301-449.

Thompson, J. & Logan, V. (2002) Leptospermum in Harden, G.J. (Ed.) Flora of New South WalesVol. 2 (revised edition). University of New South Wales Press Ltd, Sydney.

Wrigley, J. & Fagg, M. (1993) Bottlebrushes, Paperbarks, and tea trees - and all other plants in the Leptospermum alliance. Harper Collins, Sydney.