Bossiaea walkeri
Cactus Pea, Walker's Stick Bush
Bossiaea walkeri , belonging to the pea-family Fabaceae, is a shrub of striking appearance.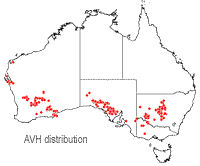 It occurs across the south of Australia in arid and semi-arid regions, growing on red sand, clay, limestone or yellow sand. It has a scattered distribution but is locally frequent in the mallee scrubs in Central and South-West New South Wales and inland Western Australia and South Australia. It has now become rare in a limited area of the Victorian mallee and is listed as endangered in the wild in Victoria.
Bossiaea walkeri is a robust shrub of tangled of hairless, flattened leafless branches that grow to about 2m by 2m, giving it a rounded appearance. The flattened photosynthetic stems, called cladodes, are a dull blue-green colour and are often coated with a white crust. The leaves if present are reduced to small scales and are approximately 2mm long. The adaptive value of having such tiny leaves is that there are very few stomata and hence very little water loss. Bossiaea walkeri bears leaves only as a juvenile and on recovery from damage
It has pink to brilliant red pea-flowers about 25mm long borne singly on drooping stalks. Floweringisspring to autumn and the flowers generally open only in sunny conditions. The fruit is a hairless, flattened pod 6cm by 1cm long containing a number of brown seeds. The pods are initially green, but mature to brown. The seeds are ripe as the pods become brittle which is usually 2 to 3 months after flowering has finished. The pod then explodes to widely disperse the seeds.
Propagation of Bossiaea walkeri is through seeds or cuttings. The hard seed-coat of the seeds needs treatment before sowing. This is done by allowing the seeds to stand in boiling water for 12 hours. The softened seeds swell and are then ready for sowing. The seeds are sown in a mixture of three parts coarse sand and one part peat moss.
Semi-hard wood tip cuttings with a length of about 75mm are used. A weak hormone solution (2000ppm solution of IBA) is used to promote the growth of the cuttings.
Bossiaea walkeri is adecorative species that is gradually being introduced into cultivation. It requires well-drained soil and partial shade but can tolerate full sun as well. It needs to be kept reasonably dry during cultivation. It is a drought tolerant plant and can also withstand frost up to -7°C under normal conditions of rainfall. Light feeding and watering will produce more flowers, but if the plant is taken care of too well it will become very leafy shortening its life. Light pruning after flowering is beneficial. They appreciate protection of their root systems as is provided by other plants or mulching. Though it primarily grows is semi-arid areas it has been found to be adaptable to a wide range of conditions
The honey from Bossiaea walkeri has a very distinctive and pleasant flavor. It appears to have no pastoral value but it is useful as a feature or locale point in a landscape. As it is a very showy species it has ornamental use. Its unusual habit and red tear-drop flowers make it an interesting species for inclusion in native gardens.
Text by Priyanka Suryanarayanan (2010 Student Botanical Intern)
Name Meaning: Bossiaea walkeri
Bossiaea – after Joseph de Bossieu la Martinere, 18th century French physician and botanist on the Astrolab, which visited Sydney durning La Perouse's voyage (1785-88).
walkeri – after Alex Walker who found the plant in the Peel Range, NSW
References
Clemson, A. 1985. Honey and pollen flora. Inkata Press, Melbourne.

Cundall, P. 2003. ABC Gardening Australia: Flora: the gardener's bible over 20,000 plants. ABC Books, Sydney.

Cunningham, G.M., Mulham, W.E., Milthorpe, P.L. and Leigh, J.H. 1992. Plants of Western New South Wales. Inkata Press, Melbourne.

Elliot, W. R. and Jones, D.L. 1984. Encyclopedia of Australian Plants suitable for cultivation, Volume 3. Lothian Publication Company, Melbourne

Rodd, T. and Cundall, P. 2005. ABC Gardening Australia: Flora's Trees and Shrubs. ABC Books, Sydney.

Sharr, F.A. 1978. Western Australian plant names and their meanings: a glossary. University of Western Australian Press.

Stewart, A. 2004. ABC Gardening Australia: Flora's Native Plants. ABC Books, Sydney.

Woolcock, D. 1997. Field Guide to Native Pea Flowers of Victoria & Southern Australia. Kangaroo Press.

Wrigley, J.W. and Fagg, M. 2003. Australian Native Plants – Cultivation, Use in Landscaping and Propagation. Fifth Edition. New Holland Publishers, Sydney