Myoporum insulare
Coast Boobialla, False Boobyalla, Blueberry Tree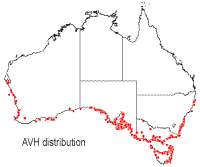 Myoporum insulare , from the family Scrophulariaceae, is a widespread shrub distributed along the coastal areas from Shark Bay in Western Australia to north-eastern New South Wales and coastal Tasmania. M. insulare has many common names including Boobialla, Water Bush, Native Mangrove and Blueberry Tree.
M. insulare thrives in well drained sandy soils in coastal habitats but can tolerate regions with lengthy wet periods and heavy soils. M. insulare is a multi-stemmed prostrate to erect shrub, which responds well to regular pruning and is commonly used as a wind break in coastal regions.
M. insulare can grow anywhere from 0.2 to 6m in height, with alternate to subopposite thick leaves with margins entire, rarely serrate. M. insulare flowers during August through to November with the flowers emerging from the leaf axil in clusters of 3 to 8. They have 5 white petals, 2.2 – 3.5 mm long, and most often with a purple spot at the base of the petals. The fruit are fleshy, globular, about 6mm in diameter and purple in colour. The fruit are sweet and juicy to eat, however can be salty and bitter, and are eaten by birds.
Although M. insulare is known to be rather frost tolerant it has been reported that the plant will yellow and lose most of its foliage after exposure to frost. However, by pruning back the branches the plant will recover quite quickly.
M. insulare 's hardy and adaptable properties make it an easy plant to grow in a wide range of environments and soil types. It can be propagated by either seed or cuttings of firm young growth which can successfully strike by simply placing the branchlets directly into the soil. Propagation from a cutting is advisable if you particularly want either the erect shrub, to use as a hedge for example, or prostrate habit, to use as more of a ground cover, as it is not predictable which form a seed will produce.
Text by Michele Marron (2010 Student Botanical Intern)
Name Meaning: Myoporum insulare
Myoporum – derived from Greek, myo meaning shut and poros meaning a pore, which refers to the glands on the leaf
insulare – from the Latin insula meaning island, which relates to the habitat M. insulare is found in, i.e. islands or more generally coastal regions.
References
Rippey, E. and Rowland, B. 2004. Coastal Plants, Perth and the south-west region, 2 nd ed. University of Western Australia Press, Crawley

Chinnock, R. J. 2007. Eremophila and allied genera – A monograph of the Myoporaceae. Rosenberg Publishing Pty Ltd

Elliot, W. R. and Jones, D. L. 1984. Encyclopaedia of Australian Plants suitable for cultivation, Vol 6, K-M. Thomas C. Lothian Pty Ltd

Carolin, R. and Clarke, P. 1991. Beach Plants of South Eastern Australia, Sanity and Associates, Potts Point

Carmen, P. and Corsini, B. 2007. Top Wedge Grafting Eremophilas, The International Plant Propagators 57: 230-233

Richmond , S. and Ghisalberti, E. L. 1995. Cultural, Food, Medicinal uses and Potential Applications of Myoporum species (Myoporaceae), Economic Botany 49(3): 276-285